Despite having registered trademarks already, many enterprises have still fallen victims to copyright violations as they do not understand thoroughly the law on brand protection, Nguyen Thanh Binh, head of the National Office of Intellectual Property of Vietnam, said in an interview with Dau Tu Tai Chinh ( Financial Invest )newspaper.
He noticed that every enterprise should have legal consultants.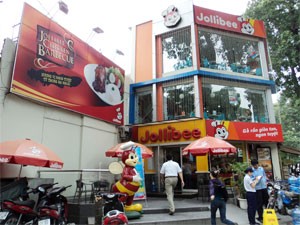 View of the fried chicken restaurant Jollibee in Ho Chi Minh City. An official of the National Office of Intellectual Property of Vietnam said local firms should have legal consultants to protect them from trademark violation (Photo:Minh Tri)
Dau Tu Tai Chinh: What do you think about the fact that many enterprises were at a disadvantage as other firms copied their trademark without their approval?
Nguyen Thanh Binh: Many local businesses have failed to sue other firms copying their registered trademark since they did not pay attention on regulations of trademark protection.
Trademark protection regulates many terms of creating brand names including not describing products. For example, apple juice makers will not have trademark protection for a logo and brand name of an apple.
Trademark protection will not be granted to a "wonderful noodle" brand name. Some products have protection for their decoration and logo only.
At present, the increasing number of new businesses is making trademark protection getting tougher. Therefore, local enterprises should make a cautious study before registering their trademark.
What should local enterprises do to protect themselves from trademark infringements?
They should rely on other laws, such as the Law on Competition. I have just consulted the owner of Quan Ngon restaurant to rename his restaurant to Ngon Restaurant, which will put his brand name under the protection of the competition law.
Moreover, enterprises should carry out marketing events to let their customers know where their real location is.
According to my study, unlike foreign companies, few of local businesses have legal consultants.
Hiring lawyer offices to be legal consultants is an appropriate move to small- and medium-size companies. They can help make legal procedure quickly and precisely.
How is trademark registering of local enterprises nationwide?
There were 524,000 enterprises registering trademark in last September. However, only 100,000 out of the amount were approved by the National Office of Intellectual Property of Vietnam.
Moreover, I cannot sure 100,000 firms approved as some of them registered many brand names.
For instant, a drug maker produces hundreds of products and it has to register trademark for each of them. Therefore, I can say the amount of enterprises registering trademark remains small.