The Ministry of Finance is completing a draft amended law on special consumption tax to submit the National Assembly, which is feared to worsen smuggling and damage local tobacco and online game producers.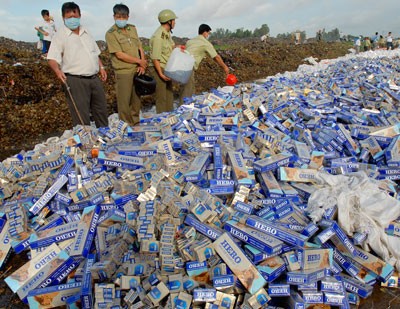 Illicit cigarettes are being destroyed (Photo: SGGP)
Since the Law on Tobacco Harm Prevention took effect in mid 2013 with several measures controlling tobacco production and trade, local tobacco companies' turnover has drastically fallen while illicit products has strongly increased in volume and types.
According to the Vietnam Tobacco Association, the turnover dropped 30 percent in the first nine months this year and even 50-70 percent to most smuggled brands. This resulted in a budget revenue reduction of VND4 trillion (US$188.48 million).
Illicit Jet and Hero products accounted for 21 percent of Vietnamese market share last year, which has rocketed to 25 percent this year.
In addition, tens of other brands whose products have been smuggled nationwide instead of in the southern region as earlier.
The association chairman Vu Van Cuong said that domestic tobacco companies have suffered many kinds of taxes much higher than that in other Asian countries.

As a result, the Government should tackle illicit tobacco before increasing the exercise rate on tobacco.
The tobacco industry has provided about 8,500 direct jobs and 10,000 indirect jobs so far and created a yearly revenue of VND8 trillion.
The draft law also proposes 10 percent special consumption tax rate on online gaming, which is feared to put local game companies at disadvantage and imperceptibly push consumers towards low-cost illicit games, said representative from VNG Corporation.
At recent meeting to collect opinions on the amended law, Ho Chi Minh City's National Assembly delegates said that the Government should not impose special consumption tax on online gaming. They should intensify control over contraband products instead.
Mr. Nguyen Duc Tho, an official from the HCMC Department of Information and Communications, said that local games were tightly assessed to prevent violent and addictive contents by a specialized council. As a result, the exercise should not be imposed on online gaming.
The Government should assist businesses to create products which can compete against smuggled games, he added.