Negotiations of Trans-Pacific Partnership (TPP) and other free trade agreements (FTA) have been done and they are going to be signed this year, which experts say are an opportunity for the garment and textile industry to maintain its export growth momentum last year and obtain a turnover target of US$28-28.5 billion this year.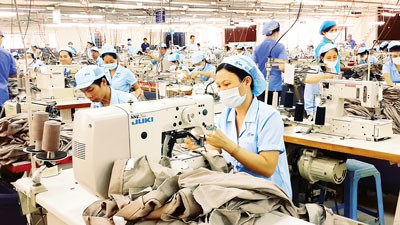 Garment production for exports at Saigon 3 Garment Company (Photo: SGGP)

Last year the garment and textile export turnover reached nearly US$24.5 billion, an increase of 16 percent over 2013. Garment items brought US$21 billion up 17 percent while fibre products yielded US$3 billion.
The export turnover grew 12.5 percent to U.S. market, 17 percent to the EU and remained unchanged at 9 percent to Japan.
Vietnam has been the second largest exporter of garment and textile products to the U.S. for the last several years. The annual export turnover from Vietnam to U.S. market has grown 12-13 percent in recent years while the North American nation's import value has grown only 3 percent.
These achievements were partly due to influences from free trade agreements.
Experts believed that these agreements will make the garment and textile industry's export target accessible this year because they are directly related to the main export markets of Vietnam, for instance TPP with the U.S. and Japan and FTAs with the EU, South Korea, and the Customs Union of Russia, Belarus and Kazakhstan.
When the Vietnam-EU FTA is signed, the tariff rate will fall from 12 percent to 0 percent. Similarly, the TPP agreement will abolish U.S. tariff rates of 17-18 percent.
Despite of the above advantages, experts have said that Vietnam would face difficulties in getting the export turnover target as the material source of garment and textile industry is largely dependent on import.
Ms. Raffaella Carabelli, chairwoman of the Association of Italian Textile Machinery Manufacturers, said that besides diversifying the export markets businesses should reduce the reliance on import material sources for successful integration.
Sharing the same view deputy chairman of the Vietnam Association of Garment and Textile Le Tien Truong said that localization rate increase is one of factors helping businesses improve their competitiveness and products' added value.
From now until the agreements are signed and take effect, businesses should invest in material production, link fibre production with cloth production and garment making to improve the supply chain, he added.
They should quickly change from processing with high material import ratio into all-in production to meet customers' demand and increase the added value of their products, he said.