Export slump has slowed consumption and slashed local rice prices, making farmers and traders incur losses in the Mekong Delta.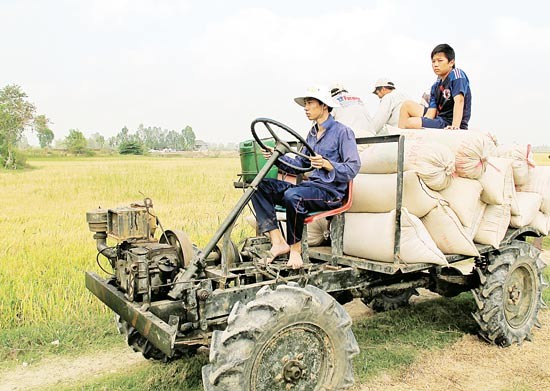 Farmers transport harvested rice home in An Giang province (Photo: SGGP)
The delta has entered the end of the summer autumn rice crop. Some provinces such as Dong Thap, Vinh Long and Can Tho city have started harvesting autumn winter rice amid price reduction.
Mr. Vo Truong Chinh from Tam Nong commune, Dong Thap said that long-lasting rain had flattened many rice fields reducing productivity and increasing harvest costs.
Meantime, prices have kept falling down damaging farmers. A fresh normal rice is paid VND4,100 a kilogram. It is VND4,500 to long grain and VND4,600 to fragrant varieties.
The agricultural industry has advised farmers to produce high quality varieties for exports. However fragrant rice price is paid only VND100 higher than long grain one a kilogram.
It costs more effort and time to tend the former type, whose productivity is lower and less consumable than normal rice, he said.
Traders have also incurred losses because of slow consumption.
Most traders have undergone losses of VND6-7 million a 40 ton rice boat for the last one month because of low quality and price, said Mr. Nguyen Van Phuong from Lap Vo district, Dong Thap.
Trader Tran Van Long from Cho Moi district, An Giang, said that about 60-80 percent of traders had suffered losses and many had stopped purchasing.
Unstable rice industry
According to the Ministry of Agriculture and Rural Development, businesses have exported 4.47 million tons of rice worth US$1.92 billion in the first nine months this year, down 10 percent in value and 15.7 percent in volume over the same period last year.
Traders loading rice abroad in the Mekong Delta (Photo: SGGP)
China has tightened small volume imports through the border and intensified purchase from Myanmar, Pakistan and India with lower prices. Thailand has also stepped up supply to this market.
China holds 35 percent of Vietnamese export market share. However the export turnover to this market has kept falling for recent years, said experts.
The country imported nearly 65 percent of its rice demand from Vietnam in 2012-2013, which reduced to 53 percent in 2014 and 47 percent this year.
Two other major markets of Vietnam including Indonesia and the Philippines have planned to reduce import and expand domestic production.
Dr. Vo Hung Dung, director of the Chamber of Commerce and Industry in Can Tho city, said that China and Africa have reduced imports. Vietnam will face severe competition from India, Thailand, Myanmar and Pakistan in both short and long terms.
The country so should have a new suitable direction for the rice industry to brake the decline trend, he said.
Chairman of the Vietnam Food Association Huynh The Nang said that of the top five rice exporters in the world in the first eight months this year, only Vietnam saw a value reduction of 13 percent, while the US increased 34 percent, Pakistan 20 percent, India 18 percent and Thailand 2.2 percent.
Mr. Nang said there too many limitations in the rice industry which have been repaired very slowly. For instance, the Ministry of Agriculture and Rural Development has encouraged developing large scale paddy fields to lower cost price and improve competitiveness, however total area has been less than 200,000 hectare, a tiny ratio compared to the country's rice farming area.
Businesses have been passive in accessing markets and Vietnamese rice has so far yet to have a brand name or choose a segment in strong position, he added.