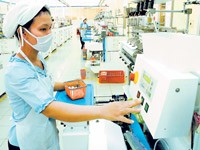 Exports will help Viet Nam promote the economic development and solve the task of job generation.
Despite many difficulties, the Vietnamese commercial sector in the period 2000-2005 had some encouraging achievements, especially its high increase in exports, with a turnover accounting for 50% of the GDP, up from 44.7% in 2000.
These achievements have helped lower the unemployment rate and raise Viet Nam's prestige in the international arena, and focusing on exports is one of the key factors which helps the country overcome socioeconomic crisis, PM Khai emphasized.
Within the next five years, Viet Nam must have significant breakthroughs in the exporting industry, said PM Phan Van Khai at the National Commercial Conference held by the Ministry of Trade in Ha Noi on March 1.
PM Khai said the increase in export is aimed at promoting the economic development and generating jobs.
Accordingly, every economic sector, association and business must map out their development and export strategies including market research, promotion programs and improvement of competitiveness in export, he added.
The PM said market management forces should cooperate with relevant services to fight against trade fraud to ensure the healthy operation of the market.
According to the Vietnamese Ministry of Trade, in 2006, the country expects to export goods worth US$38.44 billion, 18.5% over 2005, and service export revenue reaching US$6.2-6.7 billion, up by 10-12%.