Export prices of many products will remain unchanged or rise slightly in June 2006, predicted the Ministry of Trade.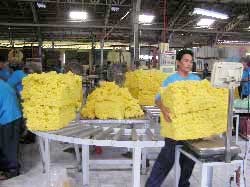 Rubber export prices will continue to rise in June.
Among them, export prices of Viet Nam's rubber were on the rise in late May. Rubber is currently exported to China at 20,300 Yuan (about US$2,500) per ton, an increase of 100 Yuan per ton compared to late previous month.
The purchase price of raw rubber is also high. Rubber SVR3L is traded at VND36.5 million/ton (nearly US$2,300), rubber SVR5 VND35.9 million/ton and rubber SVR10 VND34.9 million in Gia Lai Province in the Central Highland of Viet Nam. Forecasts say export and local purchase prices of rubber will be still high in June.
Seafood is the next product whose prices will soar in May due to rising local demand. Raw tiger shrimp prices have been high since early May but they are stable compared to previous months, at VND146,000/kilogram (category of 20 shrimps/kilogram), VND106,000/kilogram (30 shrimps/kilogram) in Soc Trang Province in the Mekong Delta.
Rice prices will be likely to continue to increase in early June and then keep stable in late June because of early summer-autumn paddy harvests in some southern regions.