Vietnam's export turnover was estimated to reach US$106.3 billion in the first eight months this year, up 9 percent over the same period last year, reported the Ministry of Industry and Trade at a regular meeting on September 4.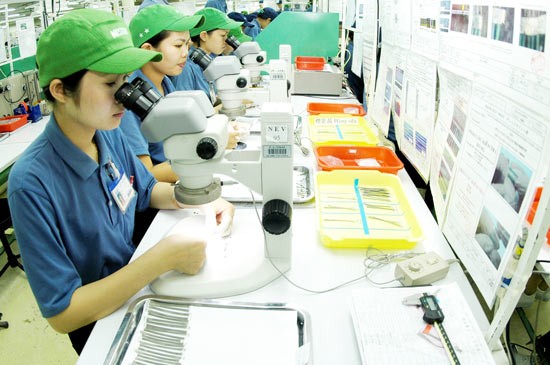 Electronic assembly  at Nissei Company (Photo: SGGP)
In August, the processing industry continued significantly contributing in the common turnover growth with a year on year increase of 18.6 percent.
Agricultural, forestry and fishery items posted 10.2 percent reduction because of a decline in three main products including rice, coffee and rubber.
Rice and seafood export fall was caused by the world abundant supply and stricter technical barriers from import nations.
Fuel and minerals dropped 46.6 percent because crude oil's turnover tumbled 48.7 percent.
Foreign Direct Investment (FDI) sector sustained high growth rate to be the main contributor to the eight month export growth. Their most shipped items comprised phone and components accounting for 99.7 percent of the country's total export turnover in this category, computer and electronic accessories, footwear and cameras.
Exports of agricultural products and minerals are forecast to continue declining in the rest months this year. Domestic investment sector is predicted to see low growth rate in export while FDI sector will be the main contributor to export.