Exporters have said they do not benefit from the Government's US$1 billion stimulus package, which is partly aimed at boosting export.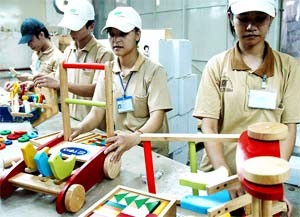 Production of wood products for export has fallen sharply and many firms are badly cash-strapped. But they cannot get loans under the Government's subsidy program because of restrictive regulations (Photo: SGGP)
At a meeting held February 10 by the Ministry of Industry and Trade and Ho Chi Minh City People's Committee to review the effect of the Government's measures on exports in the last two months, they said there are many barriers to accessing the Government's 4 percent loan subsidy.
 
Tran Quoc Manh, Sadaco general director, said though the city guarantees loans obtained by companies, only one or two have been able to get them in the first place and none in the provinces.
 
Some delegates said commercial banks, and not exporters, benefit from the subsidized loan scheme because they offer various loans and exporters end up choosing those with the highest interest rates to avoid hassles.
 
Nguyen Quang Dung, general director of Development Bank, said it is unreasonable that only small and medium-sized enterprises are eligible for the subsidized loans.
 
Exporters also complained about the complicated procedures involved in getting refunds of value-added tax and other tax-related problems.
 
According to the Industry and Trade Ministry, exports were worth US$8.02 billion in the first two months, a year-on-year increase of 19 percent. The trade surplus was $290 million.
 
Exports of gold and precious metals, rice, pepper, coffee, and cashew increased sharply while those of garment, furniture, seafood, and computer parts decreased.