Vietnam exports in the first quarter of 2009 will increase by two to three percent compared with the same period last year, Vu Huy Hoang, Minister of Industry and Trade, forecasted on March 22.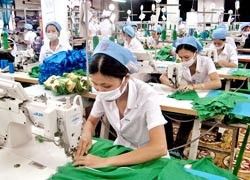 Textile, garment sector should continue to raise quality and to reduce production costs in order to maintain competitiveness for export value this year,
In the first quarter of 2009, Vietnam re-exported gold with a turnover of $1.5 billion. If exports did not include gold, turnover would decrease around five percent. However, this figure still is better than the situation in Thailand, China and Singapore.
In the first quarter of 2009, export turnover will decrease between 20-50 percent in Thailand, Singapore and China.
According to Le Dinh An, director of the National Social Economic Forecasting Centre, the drop in industrial production, exports, service sectors and foreign direct investment (FDI) in the first two months of this year.
In the first quarter of this year, many economists have said that the country's economy would face more difficulties than last year. The latest figures show that industrial output in the last two months increased by just 2.5 percent, the slowest growth rate for many years and is due to the impact of the global financial crisis.
Mr An also said many construction and investment projects have slowed due to slow disbursement of foreign and government funds, complicated procedures for site clearance and compensation, and the delayed implementation of government policies involving tax and land planning.
He stressed the most important tasks are to promote trade, boost domestic market, speed up administrative reforms and focus on producing high quality products at competitive prices.
The Consumer Price Index in March is likely to increase slightly by 0.6 percent compared with last month thanks to the Government's efforts to strictly control price hikes, especially in essential commodities.