The General Statistics Office has estimated total exports in the first 11 months to be US$58 billion against a target of $65 billion for the whole year.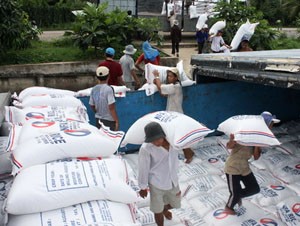 Total export turnover of Vietnam in first 11 months of 2008 reaches 89 percent against the target of the whole year. In the photo: rice exporting in HCMC (Photo: Thanh Nien)
The November figure was $4.8 billion, down $230 million from the previous month.
This is the third straight month it has fallen.
Most of main export items have seen a fall: seafood and rice both fell by $14 million to $460 million and $130 million, and coal by $18 million to $100 million.
Crude oil exports rose in volume terms but with global prices tumbling, they were worth just $505 million, $200 million less than in October.