To achieve the target of US$64.68 billion this year, exports have to top $37 billion in the second half, the Ministry of Industry and Trade said on July 8.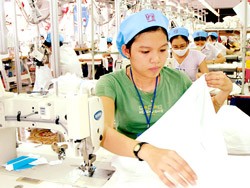 Workers at Viet Tien Garment Company making T-shirts for export. Vietnam's exports in the first half were only 42% of the year's target (Photo: SGGP)
At an online meeting to discuss the state of industrial production and trade, Permanent Deputy Minister Bui Xuan Khu said, however, it would be very hard to hit the target.
In the first half the export figure, at $27.6 billion, was just 42 percent of the year's target.
Most business associations said at the meeting that export orders for the second half are sharply down and that it is not possible to increase shipments of key items like footwear, handicraft, seafood, wood, or rice to achieve exports of $6.2 billion a month.
Some delegates said to boost exports, the government and businesses should strengthen trade promotion, establish a trade promotion fund, and scour for new markets.
Mr Khu exhorted businesses to take advantage of the Government's stimulus packages to strengthen production and trading.
Administrative problems affecting businesses and delegates' complaints and proposals would soon be addressed, he promised.