Unsalable condition and low prices of agricultural products especially during peak harvest time have raised difficulties to many Vietnamese farmers for the last several years.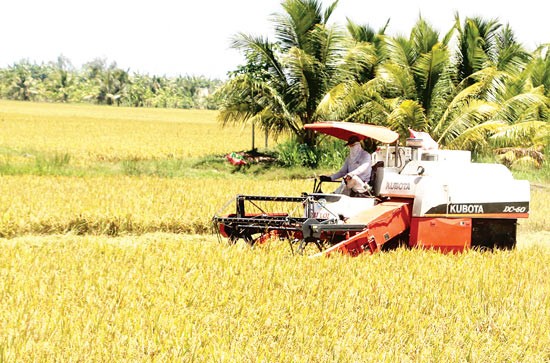 Farmers harvest summer autumn rice in the Mekong Delta (Photo: SGGP)
In the first half this year, the Gross Domestic Product (GDP) growth rate of the forestry, fishery and agricultural sector dropped to 16.73 percent from 18.12 percent in the same period last year. Of these, agricultural industry reduced from 13.63 percent to only 12.84 percent.
Agricultural development has been among outstanding achievements after 30 decades of economic reform. Production has been able to meet local demand, national reservation and exports.
As a result, Vietnam has been ranked the second rice exporter in the world for many years.
However farming production and exports have still faced with many challenges. Export price is among the lowest group in the world ranked 7-10th.  The number of branded products is limited and farmers' income is much lower than that of other economic sectors.
Rice exports have been reduced reaching only 2.71 million tons worth US$1.13 billion in the first half this year, down 10 percent over the same period last year.
Recently, statistics by the Vietnam Food Association showed that export rice price has averaged US$417 a ton under FOB (Free On Board) term, a year on year decrease of 3 percent.
Down export prices have dragged down the retailed price of summer autumn rice which is amid harvest season in the Mekong Delta.
Fresh normal rice price now swings from VND4,100-4,150 a kilogram, down VND300-500 from the peak level in the beginning of the year.
At the 38th session of the National Assembly Standing Committee, Minister of Planning and Investment Bui Quang Vinh said that rice export escalated to 7.7 million tons a year for the last several years. However it was very low in the first quarter this year.
The minister pointed out some issues, for instance farmers have broadened farming area to far exceed plan resulting in redundancy.
In addition, some nations such as Indonesia have applied agricultural protection measures to limit imports.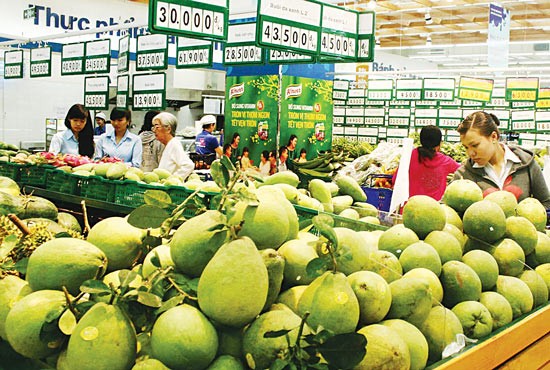 Green skin grapefruits are sold in a supermarket in HCMC (Photo: SGGP)
Accompanying General Secretary Nguyen Phu Trong during his recent visit to China, Mr. Vinh said Chinese General Secretary Xi Jinping stated that their rice supply was abundant thanks to bumper rice crops for the last recent years. Therefore, they have reduced import.
This has caused difficulties for Vietnam because China is one of Vietnam's largest rice markets.
The number of Vietnam's rivals has also risen. Two import nations India and Pakistan have attended in exports. Thailand has also attempted to clear their stocks, putting more pressure on Vietnam where produces 7-8 million tons of rice every year.
Dragon fruit growers are also in the same destiny. Under planning, farming area is only 15,000 hectares but farmers have broadened it to 22,000 hectares.
Truong Van Doi, cultivating 1,000 red-fleshed dragon fruit plants in Cho Gao district, Tien Giang province said that the price has continuously gone up and down for the last two months.
Traders paid VND60,000, VND40,000 and only VND15,000 a kilogram sometimes. The prices soar from VND25,000-30,000 a kilogram now. It is forecast to continue falling in the coming time when the fruit enters peak harvest time.
The condition is even worse to guava farmers as a kilogram fetches only VND2,000-3,000.
Farmer Bui Thi Nam from Tra On district, Vinh Long province said that many local households have enjoyed bumper guava harvest this year. They have offered seedless guava for sale at only VND2,000 a kilogram but no traders have minded.
Shrimp breeders in the Mekong Delta have also lamented about price plunge.
A kilogram of 100 white leg shrimp was paid as low as VND80,000, said Le Hoang Vu from Binh Dai district, Ben Tre province.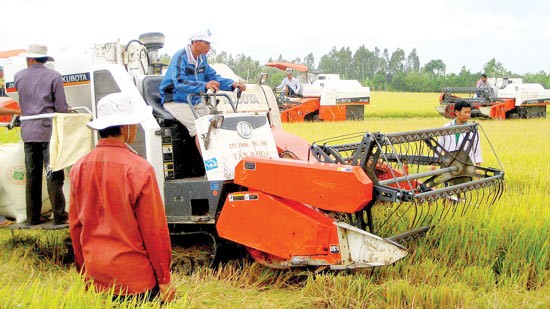 Farming production has been modernized in the Mekong Delta (Photo: SGGP)
Tiger prawn price has tumbled by VND20,000-40,000 a kilogram since early 2015 to VND240,000 a kilogram of 20 prawns.
Meantime, the price of input materials such as feed and veterinary medicine has been on the rise damaging breeders.
The Mekong Delta is in a position of strength of Tra (Pangasius) fish farming but local farmers have been hit by low price. It swings from VND20,000-25,000 a kilogram causing complete loss to breeders, said Vo Van De from Thot Not district, Can Tho city.
The shrimp output of Thailand and India has strongly surged this year resulting in fierce competition and down price, said the Vietnam Association of Seafood Exporters and Producers. Tra fish exports have not been advantageous as the European market has reduced imports.
According to the Ministry of Agriculture and Rural Development, seafood export was slow in the first six months this year. Total turnover touched only US$2.97 billion, down 16 percent over a year ago. Export value has dropped to record low level for the last three months.