In the context of globalization, in order to fight against the penetration of goods from other countries, besides the need for stricter regulations on food hygiene and safety to protect consumers' health, exports of agricultural and marine products are encountering many technical barriers. Viet Nam needs to modernize its agriculture systems to remain competitive and become self reliant in the international age of integration.
 
Re-determining key crops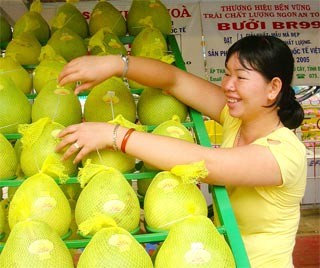 Viet Nam is famous for Nam Roi grapefruit but the market is not living up to its full potential
According to Dr. Nguyen Quoc Vong, an expert from the New South Wales Department of Agriculture in Australia, Viet Nam's agricultural and fisheries sectors have revealed serious shortcomings in terms of production lines, post-harvest technology, quality and particularly food hygiene and safety. 
 
Viet Nam is a leading exporter of agricultural and aquatic product yet the majority of its labor force is unskilled farmers and the planning, research and technology needed to give added value to their produce is lacking, making the country's farming production unstable.
 
In addition, there are many shortcomings in farming techniques, breeding and pre- and post-harvest systems, resulting in Vietnamese farmers' incomes remaining rather low.
 
It is essential to reorganize agricultural production now. Unlike the present situation, in which farmers simply plant the crops that yield the biggest harvest, farmers are being asked to decide carefully which crops will yield the most profit, which crops are best suited to the land and which can be produced at a high quality.
 
On the WTO playground, fruits and vegetables are the largest import/export goods, worth nearly US$103 billion per annum. However, Viet Nam's recent export of fruit and vegetables has been sluggish and heavily dependent on the Chinese market. Viet Nam's market is not living up to its full potential.
 
Exports of rice, coffee and rubber have declined to only US$10 billion per year for each at the most. Exports of other agricultural products like tea, cashew nuts and pepper have been the worst, about US$3 billion per year.
 
Farming in Viet Nam is mainly monoculture; farmers are only using their land to farm one type of crop all year around. About seven million hectares of rice fields are cultivated annually; accounting for 74 percent of all agricultural land, 15 percent is for monoculture of rubber and coffee (one million hectares), and 1.4 million hectares is used to grow fruit, vegetables and flowers. Food crops reap the lowest profit per unit area and thus Viet Nam's farmers are continuing to earn low incomes.
 
The Government's investment in labor, research, land fertilization and training for farming of rice and other crops is unbalanced. Choosing crops and planning farming in terms of economy and effective land use are crucial.
 
Protecting farm produce
 
Dr. Nguyen Huu Dung, deputy head of the Vietnam Association of Seafood Exporters and Producers (VASEP), said that there should be some changes made in the added-value system of farm produce. The "added value" has to become the key in the way farmers approach their work, rather than simply concentrating on quantity of product output.
 
According to Mr. Dung, planning and focused production are essential for the growth of farming, and the requirements of quality and food hygiene and safety must be satisfied.
 
China, Thailand and Myanmar have begun to farm tra and basa catfish, traditionally raised in Viet Nam. However, with a proper investment policy and basic research on this breed of fish, Viet Nam can continue to be the main exporter of such catfish.
 
Taiwan has a proper research institute for tilapia (African carp) in order to maintain its position as the number one breeder and exporter of this type of fish.
 
In order to become a powerful country in the export of agricultural products, Viet Nam needs to take up the top position in term of quality, increased planning, research and technology to add product value and improve farmers' incomes.
 
VietGap Needed Urgently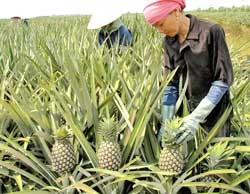 Farmers harvest pineapples
Dr. Joseph Ekman from the New South Wales Department of Agriculture in Australia said that, in order to enter the WTO successfully and join the world market, Viet Nam must be able to provide commodities that can meet the food hygiene and safety requirements of Good Agricultural Practice.
 
All WTO members have their own requirements for food hygiene and safety; for example, EU has EuroGAP, and Australia has Fresh Care.

These requirements are not only used for consumer health protection but also as a technical barrier to limit certain imported products.

Therefore, before identifying key crop plants and meeting technical requirements requested by export nations, Viet Nam needs to refer to AseanGap, which was issued in November 2006, and study the requirements of EuroGap in order to set up their own VietGap.
 
Viet Nam should then set up a training program for farmers, run as a legal government "subsidy" in line with WTO requirements.
 
It is important that VietGap be used as a "barrier" to protect local agricultural products and to request imported agricultural products meet these regulations.
Related articles:
Vietnamese Agricultural Export Integrates into the Global Market
Difficulties Facing Agricultural Export