Experts have said that Vietnam should reconsider Foreign Direct Investment attraction policies in the steel industry after another foreign investor decided to withdraw a US$4.5 billion steel project in the central province of Quang Ngai.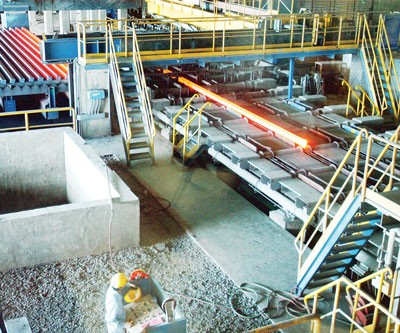 Steel production at the Southern Steel Corporation (Photo: SGGP)
Guang Lian - Dung Quat steel mill project by Japanese Steel Corporation JFE was approved with highest incentives in the province.
The project was licensed in 2006 with the total capital of US$4.5 billion. The plant's designed capacity was seven million ton steel per year.
The investor has disbursed only US$50 million for the plant. After eight years, it is still a large empty land over 330.6 hectares spotted by some rows of houses for workers.
The project enjoyed highest incentives in land, rent, electricity and water prices as per Vietnam's law. All costs arisen from sire clearance would be paid by the Quang Ngai Province People's Committee.
On the other hand, the province has planned to revoke investment certificate of a seaport project in the Dung Quat Economic Zone for construction of a port serving the plant.
Quang Ngai authorities have also proposed relevant agencies to provide the investor with a lot of tax incentives.

However, JFE has officially sent a document to authorized agencies, proposing them to consider stopping the project.
The province People's Committee is expected to work with JFE to decide the steel mill's destiny on September 19, said Mr. Vo Tien Dung, deputy head of the Dung Quat Economic Zone Management Board.
"The company can narrow the plant's scale if they want. In case they still want to withdraw, we might have to revoke the project," he said.
Earlier, the Indian Tata Group asked for withdrawal from a US$5 billion steel project in Vung Ang Economic Zone in the central province of Ha Tinh.
Professor and Dr. Dang Dinh Dao, former head of the Economics Research and Development Institute, said that Vietnam should reconsider policies of foreign investment attraction in the steel industry.
Authorized agencies should map out a long term policy, which should approve projects producing special steel for mechanical engineering or steel products for exports.
They should not license en mass projects of construction steel and steel rolls and plates any more, he said.
According to another expert in the steel industry, local authorities should reconsider providing highest incentives to lure investors, which is only suitable with the first phase of FDI attraction in the steel industry.
At present, the steel supply has far exceeded demand. FDI attraction policies should aim at exports, he said.