Cooperation between Foreign Direct Investment (FDI) and domestic companies should be a prior policy to create motivation for new growth, according to economic experts and policy planners on March 26.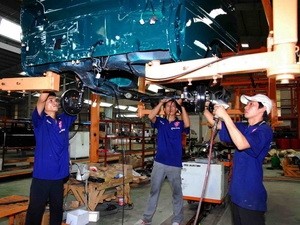 Car assembly at a FDI company in Vietnam (Photo: VNA)
These experts were speaking at a seminar hosted by the National Economics University and Japan Policy Research Institute in Hanoi.
The collaboration should deal with slow growth, poor productivity, transformation of economic structures, and lower global ranking indexes, said Professor Kenichi Ohno from the Institute.
Vietnam's growth rate has slowed to less than 6 percent. Production productivity is far behind salary increase discouraging possible investors.
The country's global economy ranking has been swinging from low to medium levels and has not showed sign of recovery. The country was ranked 93 out of 183 in 2010; 78 out of 183 in 2011; 98 out of 183 in 2012, and 99 out of 185 in 2013.
The country also faces income and property gaps, stock and real estate market bubbles, traffic jam, environment pollution and corruption.
Price of real estate subsided in November 2012. The average price was equivalent to suburban areas in Tokyo while GDP accounted for only one-third of Japan's.
Professor Ohno emphasizes the role of technology transfer in the cooperation between FDI and domestic businesses.
Cooperation in right fields
FDI and domestic businesses have stepped up collaboration in support industries to enhance investment effectiveness, said Dr. Truong Thi Chi Binh, from the Institute for Industry Policy and Strategy under the Ministry of Industry and Trade.
They seem to have not chosen the right fields to develop support industry, said Dr. Chi Binh. The automobile market is still small diverting interest for investors.
Electronics requires advanced technology production, large initial investment capital and qualified human resources. It is not necessary to focus on domestic production of components that are easily imported, said Dr. Chi Binh.
Professor Nguyen Mai, chairman of Vietnam's Association of Foreign Invested Enterprises, expressed his hopes in development of support industry in electronic field.
His cooperation with Samsung Vietnam seeks about 50 component suppliers in the Red River Delta in April.
Southern companies should improve their ability and take the initiative to seek for cooperation with Intel Corporation, said Professor Mai.