Vietnam's exports have positively grown with a large turnover part being hold by  Foreign Direct Investment (FDI) enterprises, while domestic companies have found more difficulties from volatile policies and increasing technical barriers from import markets.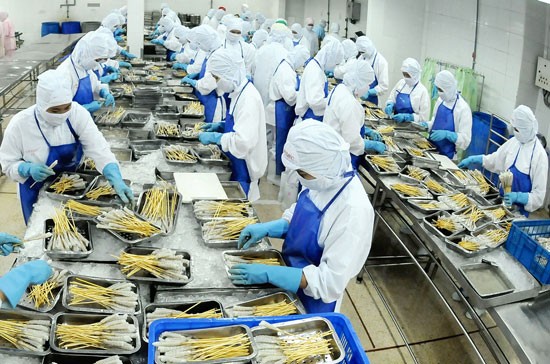 An export company in HCMC (Photo: SGGP)
FDI enterprises occupied 57 percent of Vietnam's export turnover in 2011. The number increased to 63 percent in 2012, 61 percent last year and 67 percent in the first eight months this year.
Dr. Tran Du Lich, member of the National Assembly Economic Committee, said that FDI companies have stable export markets thanks to their brand names and worldwide network of their parent companies. Meantime, domestic companies have exported via intermediary phases, limiting their access to markets.
According to the Ho Chi Minh City Trade and Investment Promotion Center, computers, phones and electronic components have always posed high export turnover, mainly from FDI companies.
Their export turnover is also higher than local companies' in fields attended by several Vietnamese enterprises like garments, footwear, handbags and wooden furniture.
Mr. Nguyen Van Khanh, secretary general of the HCMC Leather and Footwear Association, said that FDI enterprises account for 77 percent of the industry's export turnover.
Sixteen percent of businesses in the wooden furniture industry are foreign invested occupying over 50 percent export turnover. Domestic textile and garment companies have mainly done outwork.
Domestic sector gains the upper hand only in agricultural industry, especially pepper exports.
Although under-negotiation trade agreements like Trans-Pacific Partnership and Vietnam-Free Trade Agreement will bring more opportunities for local businesses to expand their markets, they still worry about the increasing technical barriers and volatile policies from export markets.
Mr. Tran Thanh Nam, deputy director general of Satra Group, said that exports to the potential market of Japan have been more difficult because the country has lengthened the list of banned agricultural chemicals.
Domestic businesses purchased farm produces as per Japan's standards in advance last year. But they are now unable to export their stocks because new banned chemicals have been announced this year.
Tra fish export to the United Arab Emirates has also faced volatile import policies. They usually apply new import regulations and remove them without prior notifications, putting business in the defensive.
Local businesses are seeking new markets to deal with the above difficulties. For instance, Satra steps up exports of seafood to Australia and wood pellets to the South Korea.
Mr. Bui Trong Nguyen, secretary general of the HCMC Association of Garment Textile Embroidery – Knitting said that they are surveying markets such as Indonesia, Myanmar, Malaysia and Thailand.
The businesses have proposed the Government to develop support industries for key export products. Related agencies should provide them with accurate information about import markets such as their demand, policies and barriers.