Foreign Direct Investment has contributed a great deal to Vietnam's economy in the last 25 years, but has also exposed a series of problems related to operations and management.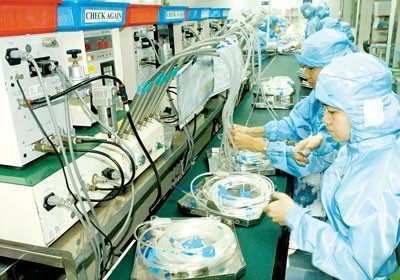 Workers at the Japanese Nikkiso Company in Tan Thuan Export Processing Zone in HCMC (Photo: SGGP)
Twenty five years after opening the economy to Foreign Direct Investments, Vietnam has now 14,522 valid projects with total registered capital of US$210.5 billion.
Ho Chi Minh City leads the country with $32.2 billion in FDI capital, followed by Ba Ria-Vung Tau, Dong Nai, Binh Duong Provinces and Hanoi.
FDI capital accounts for a sizeable ratio in the total investment capital of the country. FDI businesses contribute to billions of US dollars to the State budget annually. In 2010 alone, their contribution was $3.1 billion, equal to the total amount from 2001-2005.
Professor Nguyen Mai, former vice chairman of the National Committee for Foreign Cooperation and Investment, said that FDI has contributed in establishing several important economic industries, some modern urban areas and several service sectors.
FDI businesses have created millions of jobs directly and indirectly, providing tens of thousands of qualified engineers, managers and skilled workers.
However, functional operations have not been above board by all FDI businesses. Some companies used outdated machinery and technology causing severe environment pollution. For instance, Vedan polluted the Thi Vai River and Huyndai Vinashin indiscriminately discharged nix-waste. Many FDI firms also showed fake losses.
The Central Institute for Economic Management says that although the FDI sector always leads in industrial production growth, domestic manufacturing and local enterprises have hardly benefitted in some fields.
In reports of the 'Municipal Competitiveness Index' 2010 conducted by the United States Agency for International Development (USAID) and the Vietnam Competitiveness Initiative (VNCI), FDI enterprises have made substantial contributions but have not helped increase the competitive ability for the economy.
Announcing results of the Provincial Competitiveness Index (PCI) 2012, representatives of the Vietnam Chamber of Commerce and Industry said that FDI enterprises are reserved and constrained in their business environment in provinces.
The enterprises explained this as being afraid of risks because of macro-economic instability, policies and corruption.
According to the Foreign Investment Agency, legal documents on Foreign Direct Investment overlap and are unclear, causing difficulties for businesses and local managers.
Besides, traffic, electricity and water supply infrastructure has not met development demand for the FDI sector.
For instance, the Cai Mep-Thi Vai seaport complex in Ba Ria-Vung Tau Province has upto 53 ports, of which ten are deepwater. However, there is only one link road to these ports, which is Highway 51.
In a recent survey conducted by Foreign Investment Agency, FDI firms said that they are unable to speed up development due to a shortage of skilled workers and loopholes in management practices.
A conference to review 25 years of Foreign Direct Investment in Vietnam will be hosted today, March 27, in Hanoi.