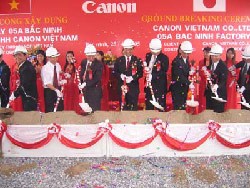 Ground breaking ceremony of the third Canon factory in Viet Nam, June 2006
Foreign direct investment (FDI) in Viet Nam this year has soared to US$9.5 billion, up 38% over last year and 40% better than the year's target, said a senior investment official.
Mr. Phan Huu Thang, chief of the Foreign Investment Department of the Ministry of Planning and Investment, told Sai Gon Giai Phong that among this $US9.5 billion, over US$7 billion were new investments and US$2.2 billion were added to operational projects.
He said about US$4.3 billion in FDI have been disbursed this year, rising by 25% on last year and 11% over the plan. This disbursement has set a record high, he added.
The main reason is almost major projects have been licensed and carried out quickly. Among them are a US$1.1 billion steel mill of Posco in Ba Ria-Vung Tau Province, US$1 billion chip factory of Intel in Ho Chi Minh City and US$556 billion steel mill of Tycoons Worldwide Steel.
Also the good news is capital increases added to foreign companies' investments. For example, Intel has added US$395 million (making the total US$1 billion), VMEP US$93.5 million and Canon US$70 million.
Given this year's good performance, the Ministry of Planning and Investment projects that next year's FDI would reach US$10 billion ($7.5 billion in new investments and US$2.5 billion in added capital), and disbursement would be half of the register.
2007 outlook
Joining the World Trade Organization, "Viet Nam sees a very bright prospect in FDI inflows next year," said Mr. J. Pincus, chief economist of the United Nation Development Program.
Minister of Planning and Investment Vo Hong Phuc said the Vietnamese Government was seeking to accelerate market reforms and make the investment environment more attractive, and these were among his ministry's key tasks in 2007. He said FDI inflows to Viet Nam would certainly keep surging.