Experts forecast that Vietnam's economic prospects are positive in medium and long terms and Foreign Direct Investment will continue to flow into the country.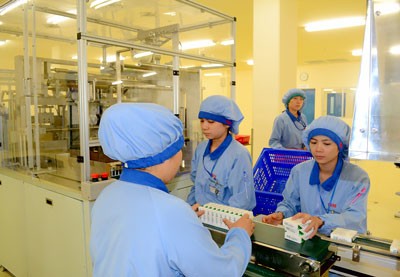 Production at Rohto Company in Vietnam Singapore Industrial Park 1, Binh Duong Province (Photo: SGGP)
They were speaking at the Vietnam Investment Forum 2014 hosted in Ho Chi Minh City.
Vietnam's economic prospects are positive in medium and long terms, said, Don Lam, director general of VinaCapital Group.
Increase in securities possession proportion of foreign investors at public companies will boost the market growth. Credit growth will be improved in 2014 and businesses can expand their scales, he said.
Essential item, health care product, energy and banking & finance sectors will further develop in both short and long terms to meet increasing demand of domestic consumption.
The equitization process of state owned companies have been sped up, bringing a lot of attractive chances to private investors. Recently, Asian Investors including Singapore, Thailand and Japan and others have more and more paid attention in Vietnam, Lam added.
Mergers and acquisitions strongly took place in 2013 and will continue this year, said Don Lam.
Thomas Hugger, director general of Asia Frontier Capital Ltd., said Vietnam has become a destination of choice for foreign investors. Investment environment has improved in Vietnam through the banking system restructure and establishment of Vietnam Asset Management Company to purchase bad debts of banks.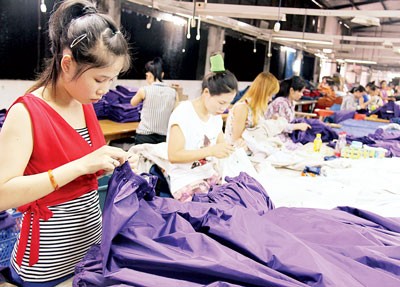 A foreign invested garment company in Viet Huong Industrial Zone, Binh Duong (Photo: SGGP)
The Government has also offered policies for economic recovery like interest rate cut, reduction of personal and business income taxes, demand stimulation packages and state-owned company restructure.
Besides, foreign currency reserve increase will help stabilize Vietnamese dong and assist the balance of payment.
Once the Trans-Pacific Partnership Agreement is signed and Vietnam attends in the Asian Economic Community 2015, Vietnam's economy will be fostered and investors will see more opportunities.
Vietnam will be one of the most promising emerging markets in the next decade if the country's Government reduce administrative intervention in the economy and speed up equitization of state-owned businesses, said Dr. Marc Faber who is a financial strategist.
According to the Ministry of Planning and Investment, Vietnam has a lot of competitive advantages to atract FDI. They include good geographic position in the center of the Southeast Asian region and stable politics.
Gross Domestic Product growth has maintained at 5-6 percent per year and macro economy stabilization has been upheld.
The country has abundant human resources with 60 percent of population in working age and a large market with 90 million people.
The Government always pays attention to improvement of the investment environment, said Ministry.