Minister of Finance Dinh Tien Dung has issued a directive instructing authorized agencies to intensify management and supervision to stablize the prices of goods in the coming Tet holidays.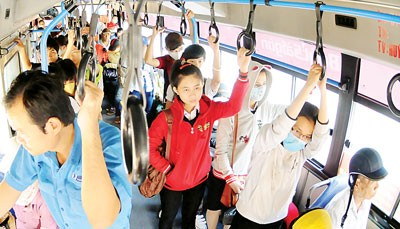 Transport fees will be kept suitable with petrol prices in the coming tet holidays (Photo: SGGP)
Finance department directors are instructed to keep a close eye on goods supply, demand and prices before, during and after the holidays, especially to essential items such as rice, meat, egg, vegetables, cakes and beverages.
They should work with relevant departments to counsel provincial people's committees with measures to stabilize the market, and prevent goods scarcity and speculation from rigging the prices.
Inspections should be step up to ensure the serious implementation of price, tax and fee bylaws at businesses.
The minister ordered the departments to instruct transport firms to publicly announce their fare and freight rates.
Violators will be publicly named on the media. Authorized agencies should speed up actions against counterfeits and smuggling.
The Price Management Department under the ministry is instructed to send inspectorates to provinces to manage and stabilize the prices.