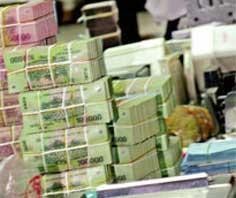 Vietnamese bank notes
The Ministry of Finance has submitted to the Government proposals to curb inflation, including cutting down frequent costs.
The proposals say the ministry will decrease spending not very necessary and urgent such as expenses for conferences, workshops, receptions, and working trips overseas. The purpose here is to cut 10% of total spending, and to save 10% from expenses for power and fuel.
The ministry says after March 31, it will cut down designated budgets where allocation is improper. After March 30, the ministry will cut budgets not yet allocated.
As for projects using investment capital assigned for development in general, the ministry will delete from the list projects manufacturing cement, steel, electricity, and road and bridge projects that see no possibility of recovering capital. By doing this, more capital would be able to go to projects designed for social development.