Low-income housing projects have lagged far behind demand because the State lacked funds and the private sector needed more investment incentives, Construction Minister Trinh Dinh Dung said on Sunday.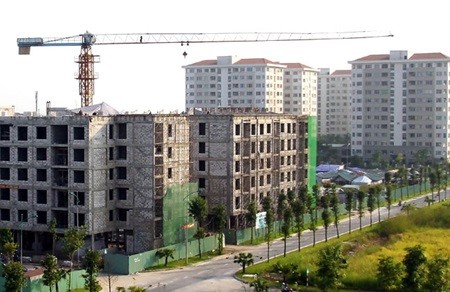 A corner of a low-income housing project in Ha Noi's Gia Lam District. A lack of State funding is blamed for low-income housing projects lagging far behind demand, the construction minister said. (Photo: VNA/VNS)
He told the People Ask, Ministers Answer television talk show broadcast on VTV1 that building "social housing" required a lot of money, but the State Budget was limited.
But this is only one of several reasons that accounts for the sluggish pace of "social housing" projects, he said.
"Social housing" refers to apartments for people covered by the State's social welfare policies, including low-income households, people who have made meritorious services to the nation, and people in several disadvantageous situations.
Another reason, the minister said, was that private developers were not interested in such housing projects because the return on investment was low, given their cheap selling prices and relatively high construction quality.
Dung said that since the Government introduced a policy to build cheap apartments for low-income earners, only 40,000 (mostly small) have been built so far, housing about 200,000 people.
"The Housing Law 2015 has just been approved (by the National Assembly), so more documents guiding its enforcement will be issued in the coming time," he said.
Dung said the need of the house was creating favourable conditions for investors.
"Local authorities and relevant agencies need to identify this as a 'political task' and make it part of their annual and five-year action plans," he said.
He explained that creating favourable conditions meant providing ready-to-build land for builders, creating a legal framework that helps construction companies (simpler paperwork for recruiting labour to work on construction sites) and providing access to cheap loans for firms interested in building low-income housing.
The minister said the private sector should consider building houses that they can rent to low-income workers.
A number of industrial park workers in the northern province of Bac Ninh sent a letter to tell the minister that just one in four managed to find rented accommodation near their workplace, and others have to travel very far to get to work.
Some workers from Ha Noi's Dong Anh District also shared their stories, telling the minister that the cheap apartment blocks they lived in had no accompanying social services like nurseries and kindergartens for their infants and toddlers and healthcare facilities. They said hospitals were far away and difficult to reach during emergencies.
Dung said new documents guiding enforcement of the Housing Law 2015 would make it compulsory for apartment buildings built exclusively for workers to have nurseries, kindergartens, shops and healthcare facilities.
Some viewers wanted to know if price manipulation (intentionally raising prices to create a fake increase in demand) was a factor in the current surge in real estate prices.
Dung rejected this rumour as false.
He said after 2011-2013 freeze in the property market, the Government had to intervene by "restructuring the (property) market' and projects", diverting development projects away from low demand (high-end or luxury buildings) segments to those with higher needs, like housing for low-income people.
These measures have had a positive impact as the property market has warmed up, he said.
Viewers then wanted to know if another property market bubble was around the corner.
Dung responded that the Government would try and prevent this from happening. For this, the restructuring and management of development projects should be continued in order to balance supply and demand, he added.
"We cannot let this segment (of the property market) have too many houses for sale while that segment has insufficient supply to meet demand."
The minister stressed that local authorities and relevant agencies should strictly enforce Government Decree 11 on management of urban development, which requires that the building of new urban centres must be based on actual, accurate demand forecasts.