Financial guarantee is necessary to protect future house buyers from risks because many investors have neither handed over apartments on schedule nor ensured house quality as per contracts, causing losses for the house buyers.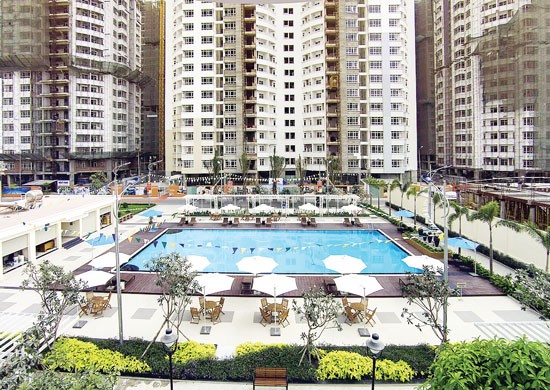 Him Lam Cho Lon is among few projects built before being offered for sale in HCMC (Photo: SGGP)
Real Estate Law permits investors to raise capital from customers if their projects meet minimum requirements. This is to share financial burden with the investors and extend payment time for house buyers.
 
Experts said that with the current real capacity of businesses, few could afford to complete a project before offering it for sale.
Sale after construction will be disadvantageous for investors as they can not anticipate changes in the market and customers' demand while implementing projects.
 
If the investors sell while building apartments, they can raise capital from customers and timely correct their business strategies to accord customers' requirements.
 
This measure will also benefit customers as they can buy houses at lower prices because the investors can reduce costs from loan interest rates.
 
However future house buyers face a lot of risks because many projects have been left half-done. Some investors have got deposits from customers but done nothing to start their projects and refused to refund the money.
 
Some have sold a same apartment to many people and run away like Gia Phu apartment block project in Thu Duc District. Hundreds of customers have paid 80-90 percent of the contract value in advance just to see the project stop construction for the over two years.
 
Tens of appeals on unimplemented or behind schedule projects have been filed to relevant agencies. Only some cases have been handled and the number of customers won the lawsuit has been uncommon.
 
Intermediate account
 
Director General of Dat Xanh Mien Nam Company Do Van Manh said that according to contracts with investors, intermediary agencies just collect deposit from customers and then transferred it to investors. Both the go-between and customers don't know how the investors use the money.
 
He proposed to establish an intermediary account supervised by related sides to ensure that the customers' money is disbursed in right purposes and addresses.
 
Revised Real Estate Law taking effect from July 1, 2014 regulated that real estate companies must be guaranteed by commercial banks to sell or let out future properties.
 
Many businesses have complaint that it would push up the apartment price because guarantee fee will be counted on.
 
Mr. Le Hoang Chau, chairman of the HCMC Real Estate Association, affirmed the necessity of the above regulation to protect customers.
 
However in order not to cause difficulties for businesses, he proposed to apply it to businesses with problems, for instance those used to fall into disrepute or break the law.
 
It should also be used for newly established companies, and those have long founded but have not successfully built prestigious brand names. This will create fairness to those have been able to do so.
 
Lawyer Nguyen Thi Cam from the HCMC Lawyer Delegation said that fraudulent investors must be cracked down and there should have regulations to inspect and supervise them to create a fair and safe real estate market.