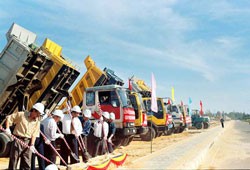 Ground breaking ceremony of Dung Quat Economic Zone, one of the economic zones attracting more foreign investors.  
Viet Nam's recent impressive growth rates and its outlook of becoming a "new tiger" in Asia are prominent features in the reports on Viet Nam's economic development strategies by the Hongkong and Shanghai Banking Corporation (HSBC) and Credit Suisse, a worldwide financial services provider.
The reports were introduced at a workshop on financial services and investment in Viet Nam held in the UK on Oct. 5. According to the HSBC's report, Viet Nam's economy has made many remarkable achievements in recent years, with its annual growth rate staying at 7.2% on average in the last decade.
The number of people living under the poverty line has been substantially cut down to 8 percent at present from 51 percent in 1990. HSBC predicts that Viet Nam is likely to achieve its target of attaining growth rates of 7.5%-8% in the next five years, especially in light of its huge young population and a good-quality labour force.
Meanwhile, studies by Credit Suisse showed that there are many reasons for Viet Nam to be eyed as a destination for foreign investors, such as low labour cost and the rapid reform.
Source: VNA