Vietnamese companies are showcasing their motorcycle components for the first time at the world's biggest motorcycle exhibition, EICMA, held in Italy's Milan from November 17-22.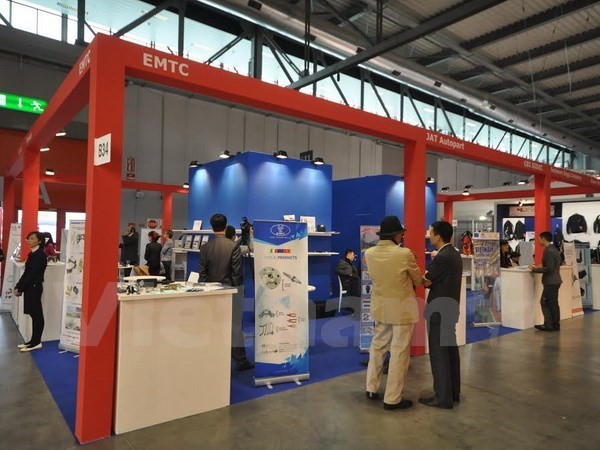 A Vietnamese pavilion at EICMA (Photo: VNA)
Businesses such as LeGroup, Viet An, AMA, MADA, EMTC and Technokom have brought to the event their outstanding products supplied to renowned motorcycle makers like Honda, Piaggio and Yamaha.
Truong Thi Chi Binh, Director of the Supporting Industry Enterprise Development Centre, said the event is a good opportunity for Vietnamese firms to seek ways to sell their supporting industries' products to international markets.
Europe is a promising market for Vietnam's supporting industries, she said, adding EUR that 741 million  of metal products were shipped to the European Union (EU) in 2010, an annual increase of 23 percent from 2004.
The EICMA is also said to create real opportunities for Vietnamese enterprises to access and become part of Europe's product value chain, particularly as Vietnam and the EU prepare to sign a bilateral free trade agreement.
The firms' participation in the show is sponsored by the Dutch Government's Centre for the Promotion of Imports from developing countries and part of the "Vietnam Supporting Industries to Europe" project, which is funded by the EU.
First held in 1914, EICMA is the world's biggest annual motorcycle exhibition. It gathers leading motorcycle manufacturers, including Harley Davidson, Honda, Kawasaki, Yamaha, Ducati, Piaggio, BMW and Peugeot, and companies in support industries.
This year's 73 rd show has attracted more than 1,000 businesses with a display area of nearly 300,000 square metres. Organisers expect to welcome at least 600,000 visitors.