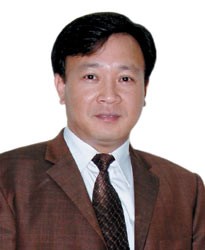 Mr. Le Dac Son, General Manager of VP Bank.

Currently, the demand for loans to buy used cars is increasing rapidly, but no bank is yet ready to provide banking service for that. Except Viet Nam Joint-Stock Commercial Bank for Private Enterprises (VP Bank) which is the first bank to provide loans buyers of imported used cars in mid-May, 2006. A

Reporter of the Sai Gon Giai Phong Newspaper has had an interview with Mr. Le Dac Son, General Manager of VP Bank.
Reporter: Has VP Bank currently had any loans available for buying used cars?
Mr. Le Dac Son: VP Bank was the first bank in 2001 to offer a banking service providing loan by installment payment for customers to buy brand-new cars. Today, we upgrade the service to providing loans for used cars as well. For new cars (where the car itself is held as a loan security) customers can borrow from 60 to 65 percents of the total value, with the loan term of 4 years. As far as used car is concerned, customers can borrow up to 50 percents of the car's value with a 3 year term
Reporter: From a businessman's point of view, what do you think about the currently imported used car market? And what's the potential of the lending market?
Mr. Le Dac Son: Imported used cars are predicted to be cheaper than new ones in the local market. Moreover their quality is better due to the higher standard applied in assembling. Therefore we estimated it is safe for this type of loan. There won't be much depreciation of the car while it is being paid off. So VP bank still gets back both interest and principal. I believe the imported used car market is going to develop further.
Reporter: So requirements, terms and loan amount for buying used cars will become easier?
Mr. Le Dac Son: We are currently working on the loan procedures. They will be based on the type and condition of imported used cars. If requirements are met, buyers can borrow up to 60 – 65 percents of the car's value, which is similar to that of a brand-new car loan. The terms of loan are also longer.
Reporter: How could VP Bank assess the value and quality of cars before providing loan?
Mr. Le Dac Son: We will cooperate with some units specialized in car engineering in order to have accurate assessments. Accident-damaged, reconditioned cars, and those with tampered chassis and engine number will be rejected. That means customers of VP Bank will be advised for free about the quality of car before borrowing.
Reporter: Have VP Bank intended to cooperate with importers of used cars in order to simplify the loan procedures
Mr. Le Dac Son: Former VP bank partners, Toyota, Mercedes, and Ford are selling used cars, so we don't have any problems with loan procedures. In addition VP Bank also cooperates with some other import businesses in order to make the loan procedures easier for customers.
Reporter: VP Bank is the first bank providing this type of loans to customers. But when other banks join the game, what advantages should customers to come to VP Bank for?
Mr. Le Dac Son: First, VP Bank is the first bank providing loan for buying automobile, so we have many long-term relationship with car dealers. In addition we have flexible mechanisms of loan's procedure, which can immediately be adjusted to satisfy customers' requirements. Our interest rates are also competitive. Moreover loan security doesn't have to be the car itself; it could be valuable documents, land-use right, bankbooks, stocks, properties etc.