The NTACO Joint Stock Company on April 8 received a Global Good Agricultural Practice (GAP) certificate for its 30-hectare tra catfish farm in the Mekong Delta province of An Giang. The certification was granted by Control Union Certificates, Holland.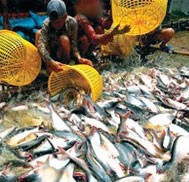 Tra fishes are raised in Mekong Delta province of An Giang. (Filed photo)
NTACO is the first tra farm in the Mekong Delta to receive a Global GAP certificate, which is granted only to agriculture or aquaculture producers who achieve high production standards.

With the new certification, the value of NTACO's products is expected to increase by over 15 percent and the company will have more opportunities to penetrate strictly controlled international markets including Europe, the US, and Japan.

In the first quarter of this year, NTACO's export turnover reached US$3.7 million, up 70 percent compared to the same period last year. At present, the company's tra and basa fish products are sold to more than 40 countries and territories worldwide.
NTACO is the second seafood business in Vietnam to be awarded the prestigious certificate, after Minh Phu Seafood Joint Stock Company.