Gross Domestic Product increased 4.96 percent in the first quarter this year, the highest increase in the same period over the last three years, according to the General Statistics Office on March 24.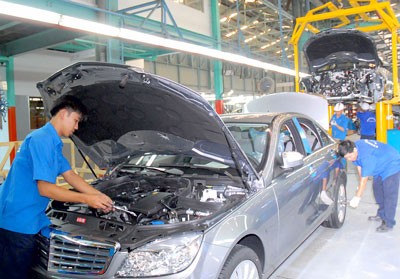 Assembly of cars at Mercedes-Benz Vietnam (Photo: SGGP)
The agriculture and seafood GDP increased 2.37 percent while industrial and construction GDP increased 4.69 percent. GDP for services (including drink, food, tourism, etc.) increased 5.95 percent.
Total GDP was up 4.75 percent in the first quarter 2012 and 4.76 percent in the first quarter 2013.
In March 2014, Consumer Price Index fell 0.44 percent since the month before. This is the lowest rate for March in the last 11 years.
Four groups experience decrease in CPI: food, drink and services decreased 0.96 percent, housing and construction materials decreased 0.74 percent, and traffic, post and telecommunication decreased 0.03 percent.
Other commodities increased less than 1 percent. The highest increase was beverage and cigarette sales with a 0.24 percent increase.
CPI decreased 0.46 percent in HCMC, 0.15 per in Hanoi, 0.75 percent in Can Tho and 0.4 percent in Thua Thien-Hue.