Vinh Luong fishing port in Khanh Hoa's Nha Trang city are enjoying a happy atmosphere as local fishing boats caught a large amount of hairtail fish (Trichiurus muiticus) on September 22.
Nguyen Son, an owner of KH-97797-TS - fishing boat in Nha Trang city said that his two fishing vessels harvested 40 tons of hairtail fish during a week -fishing trip.
 
Hairtail fish currently is sold at VND 25, 000- 35, 000 a kilo for type 1, and at VND 10, 000- 15, 000 a kilo for type 2.
 
Although trawlers lost the high cost of a fishing trip, they earned VND hundreds million profit after the catch has been sold.
 
Vinh Luong fishing port has received 10 hairtail fishing vessels daily, even some vessels caught 30 tons of hairtail fish in recent days, said management board of the port.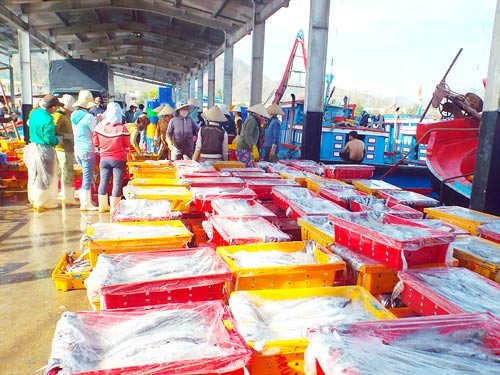 Classifying fishes before selling. (Photo:SGGP)