Fitch Ratings on Wednesday affirmed Việt Nam's long-term foreign and local currency IDRs at 'BB-' with a stable outlook.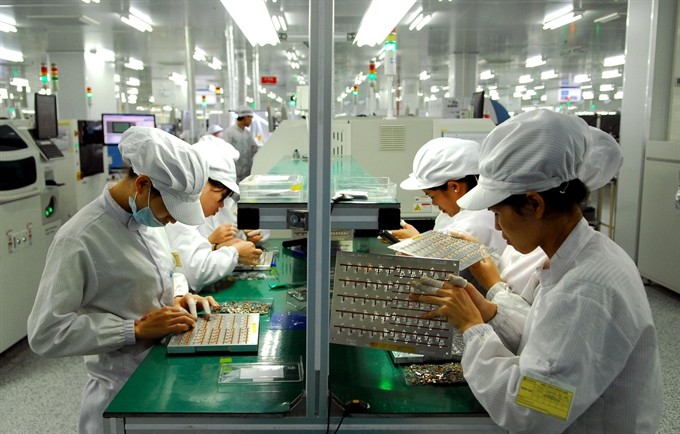 A production line for electronics spare parts at SYNOFEX Việt Nam Company in Hà Nôi's Quang Minh Industrial Park. Fitch forecast Việt Nam's GDP would rise by 6.2 per cent in 2016 thanks to the strong growth of several industries, including manufacturing and services. — VNA/VNS Photo Danh Lam
The issue ratings on Việt Nam's senior unsecured foreign and local currency bonds are also affirmed at 'BB-'. The country ceiling is affirmed at 'BB-' and the short-term foreign currency IDR is at 'B'.
"The ratings reflect Việt Nam's strong macroeconomic performance and the favourable medium-term growth prospects against high public debt, low foreign-reserve buffers and relatively weak structural indicators," Fitch said.
Fitch forecast Việt Nam's fiscal deficit could rise to some 6.5 per cent of the GDP this year, adding that the Government's efforts to reduce the budget deficit to below 4 per cent of the GDP over 2016-20 would prove challenging in light of the upcoming enhancements to fiscal reporting standards starting in 2017, which would bring more off-budget capital expenditure into the official State budget.
Fitch forecasts general government gross debt (GGGD) will rise over the medium-term to 53.7 per cent in 2016 without tightening fiscal policy settings, continuing its rise in 2015 to an estimated 51.1 per cent of GDP, up from 47.3 per cent in 2014, and higher than the 'BB' median of 43.6 per cent.
A broader measure of public debt, including government guarantees, reached 62.2 per cent of GDP at end-2015 and is near the National Assembly's approved limit of 65 per cent. The authorities reaffirmed commitments to the limit and articulated plans that include reducing the use of guarantees and cutting current expenditures to avoid a future limit breach.
"Việt Nam's sovereign funding profile remains stable but has increasingly pivoted towards domestic marketable debt to prepare for reduced access to concessionary financing resulting from the country's forthcoming graduation from the World Bank's International Development Association," Fitch said.
It added that efforts to lengthen the average term to maturity of domestic debt have largely proved successful, with the average term of issuance increasing to seven years in Q1 2016 from five years in 2014. Five-year domestic government bond yields were 6.3 per cent in May 2016, up by 40 basis points since last year, but have broadly been on a declining trend over the past five years.
Despite a GDP growth of 5.6 per cent in Q1 2016, below the 2015 figure of 6.7 per cent, Fitch forecast Việt Nam's GDP would rise by 6.2 per cent in 2016 thanks to the strong growth of several industries, including manufacturing and services.
Việt Nam's current account is also expected to post a surplus of some 1 per cent of the GDP in 2016, which reflects the resilient export performance and the depressed prices across nearly all primary commodity imports. The trade balance grew to US$1.5 billion in April 2016 versus a deficit of $3 billion in the previous year. FDI disbursements remain strong at 12 per cent growth year-on-year, providing a foundation for continued growth in the country's export-oriented manufacturing sector over the medium term.
Foreign reserves were eroded significantly during the second half of 2015 following efforts to stabilise the exchange rate amid market pressures across Asian currencies and a pick-up in dollarisation.
However, the agency believes the recent introduction of a more flexible exchange-rate mechanism, policies to discourage US dollar hoarding and improved trade performance have alleviated balance-of-payment pressures and contributed more than $4 billion in foreign-reserve replenishment during Q1 2016.
Fitch's sector outlook for Việt Nam's banks was moved to stable (from negative) in December 2015 following preliminary signs of stabilisation in asset quality, improving liquidity and funding conditions. Strong economic growth and a recovery in the property market will lead to slower non-performing loan formation, but a rapid acceleration in credit growth poses a potential risk to medium-term financial stability. Fitch estimates credit growth accelerated to 17.3 per cent in 2015. The official credit growth target of 18-20 per cent for 2016 suggests that a broader re-leveraging of the economy will continue over the forecast period.
The authorities have continued to prioritise a structural reform agenda with a focus on market liberalisation, equitisation of State-owned enterprises and enhancements to the broader business climate.
"Việt Nam will be one of the largest beneficiaries of the Trans-Pacific Partnership, should it be successfully ratified by participating countries, through both enhanced medium-term growth prospects and by providing a key policy anchor for continued structural reforms and liberalisation," Fitch said.