The Viet Nam Food Association (Vietfood) has asked its members not to sign further rice export contracts for deliveries this March since 700,00-800,000 tons has already been sold abroad so far this year.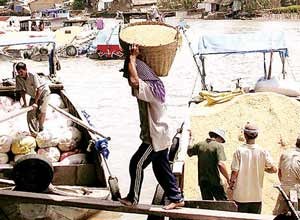 Unhusked rice being loaded onto small boats to head for warehouses in the Mekong Delta (Photo: SGGP)
"A hiatus in rice export this month has affected rice prices and worried farmers," Dr. Le Van Banh, Director of Mekong Delta Rice Institute said.
Over the past three years, rice exporters were routinely requested to stop signing contracts in July and August when the amount of consignment reached a certain limit, but this year Vietfood's request obviously came much earlier.
Its effect has been felt as rice prices in the southern Mekong River Delta - where nine million tons is expected to be harvested in this winter-spring crop - start to fall.
In the world market, prices have risen because major rice exporters like Viet Nam, India and Thailand have announced export quotas.