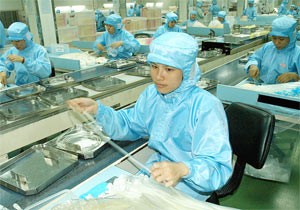 Making medial equipments for re-export to Japan at Nikkiso Vietnam Co. in Tan Thuan Export Processing Zone. (Photo: SGGP)
Viet Nam has attracted US $ 5.21 billion of foreign investment by the end of the 2nd quarter, an increase over the first three quarters of 2006, according to a report of the Ministry of Planning and Investment publicized on June 26.
The estimated total value of wholly foreign-owned companies by the end of June 2007 amounts to US$ 2.2 billion, a 20.5% rise in comparison with the same period last year, said Mr. Phan Huu Thang, Director of the Foreign Investment Department under the Ministry.
Their total estimated turnover for the first six months of the year is US$ 14.3 billion, an increase of 16% compared with the same period last year, of which export turnover reached US$ 8.8 billion.

Of 36 foreign investors in Viet Nam, Singapore remains top, having US$ 890 million registered investment capital, 20.4% of all foreign investment to Viet Nam. Korea ranks second with a total registered investment capital of US$ 733.3 million (16.8%), and India ranks third with a registered investment capital of US$ 527.3 million (12.1%).

Also according to Mr. Thang, the total value of investment projects under negotiations for the issue of investment certificates reaches US$ 35 billion.