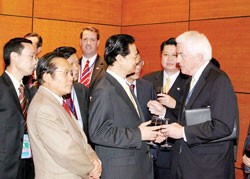 PM Nguyen Tan Dung (C) chats with international business leaders on the sidelines of the Doing Business with Vietnam Forum 2006 in Ha Noi.
The Vietnamese Government and local administration pledges to provide more favorable conditions to help investors succeed, said Vietnamese Prime Minister Nguyen Tan Dung at the "Doing Business with Vietnam Forum 2006" on Thursday.
Under the theme "Business Opportunities when Viet Nam becomes a member of the World Trade Organization", the forum drew nearly 1,000 executives and representatives of corporations and enterprises, together with a number of international officials and economists.
The participants took part in four working sessions on improvement of the business environment, strategies for industrial development and competition in post-WTO period, financial market development in post-WTO period, and international trade development in post-WTO period.
Viet Nam will create a fair playground with a comprehensive, transparent legal system
Addressing the opening ceremony of the forum, PM Dung pointed to some achievements of Viet Nam in the renewal process which have made the country an active member of many international organizations.
"Viet Nam pledges to be an energetic and responsible member of the WTO. The country is ready to be a friend and a reliable nation for peace, friendship, co-operation for mutual benefit and development," stressed Mr. Dung in his speech.
The PM also affirmed that the Vietnamese Government and people considered foreign investors an important part of the country's economy.
Barriers in developing human resources, infrastructure should be removed
Later the day, Minister of Planning and Investment Vo Hong Phuc delivered a speech, saying that the Vietnamese Government would highly appreciate the suggestions from the participants so as to contribute to making Viet Nam a more attractive destination for the world investor community in post-WTO period.


Minister of Finance Vu Van Ninh (L)hands over business license to US Groups to provide non-life insurance services.
Vice President of Communications & External Affairs of BP Group Mark Ware expressed, "My working experience showed me two major factors that decided the business' success in Viet Nam: the reliability and the support from government in developing the local human resources."
"Currently, 90% of BP Vietnam's staff are locals, who are very talented and capable of working in various positions. BP plans to invest more than US$1 billion in Viet Nam," he added.
According to Mr. Christopher Wiesner, Charge d'affaires at the European Commission Delegation to Viet Nam, the country can improve its human resources by calling for more contributions from overseas Vietnamese intellectuals, focusing more on training and transferring of educational technologies and modern equipments to Viet Nam's university.
Mr. Derek Williams – Chairman of Oracle Corporation - Asia Pacific and Japan, added that Viet Nam should improve its infrastructures and other supporting industries, aiming at turning the country's industry into a high-tech and developed sector.     
After the opening ceremony of the "Doing Business with Vietnam Forum 2006", PM Nguyen Tan Dung witnessed the signing of six contracts with a total value of almost US$2 billion. 
The cooperation agreements include:
1.  Agreement between the Vietnam Chamber of Commerce and Industry (VCCI) and American Chamber of Commerce in Viet Nam, aiming at strengthening and supporting business communities as well as promoting Viet Nam-US trade cooperation.

2.  Build, Operate and Transfer (BOT) project, worth US$1.4 billion, for the Mong Duong 2 thermoelectric plant between the Vietnam Coal and Minerals Industries Group and the US AES Transpower Group.

3. A project on building a tourist resort and a golf course between the King Valley Co. Ltd and the Hanwha (Republic of Korea), worth US$150 million.

4. US$100 million agreement between the Vietnam Shipbuilding Industry (VINASHIN) and SSA Marine on upgrading the Cai Lan port.

5.  Agreement on establishing a joint venture specialized in building high-tech electronics plants, urban areas, trading centers and producing automobiles, signed between the Saigon Invest Group (Viet Nam), V.S. Industry Berhad (Malaysia) and V.S International Group Ltd (Hong Kong) valued at US$200 million.

6.   A US$15 million contract to develop the Sun Spa Resort between Truong Thinh Co. Ltd from Quang Binh province and the US NRG Company.

7.   A US$125 million five-year contract to distribute motor lubricant signed by Truong Thinh Co. Ltd with the US's NRG Group.

8.  A co-operation agreement between Microsoft Vietnam and the Vietnam Data Communication Company (VDC) concerning the project on establishing the Vietnam MSN Electronic Information Gateway.

Meanwhile, the Vietnam Chamber of Commerce and Industry (VCCI), the organizer of the forum, and the American Chamber of Commerce clinched a deal to strengthen cooperation between the two countries' business communities. 

On this occasion, Minister of Finance Vu Van Ninh also handed over business licenses to ACE and Liberty Mutual Groups to provide non-life insurance services.