The State Securities Commission (SSC) is expected to submit the Prime Minister a proposal to increase foreign ownership rate at a public company in Vietnam to 60 percent from the current 49 percent in October this year. This aims to make room for big Initial Office Offerings (IPOs) by over 300 businesses this year.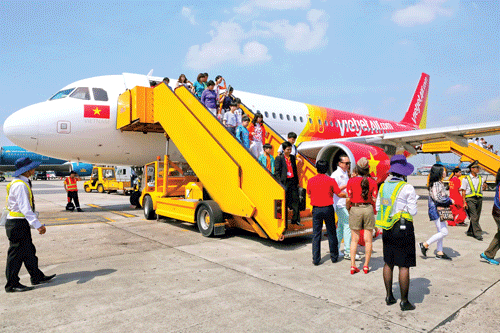 Low-cost carrier Vietjet Air might launch its IPO this year (Photo: Financial Investment Edition/SGGP)
According to the Government's plan, a total of 432 state-own enterprises (SOEs) will be equalized in the phase of 2014-2015. Only 120 had conducted their IPOs last year meaning 312 others will have to launch the IPO this year.
They will include big IPOs by state-owned groups and corporations such as Vietnam National Shipping Lines, Vietnam Railways and Vietnam Shipbuilding Industry Corporation. Besides the State Capital Investment Corporation (SCIC) will continue speeding up capital withdrawal at state businesses.
These are considered as an opportunity to attract foreign investors. However foreign ownership rate at a public company is capped at only 49 percent, which might indirectly cause difficulties for the SOEs' equitization progress.
SSC's Market Development Department is reviewing the Government's Decree 58 on foreign ownership at public companies and stock companies to make proposals to change unreasonable regulations, said the department head Nguyen Son.