Vietnam's foreign reserves have hit a record high of US$40 billion, according to a source from the State Bank of Vietnam (SBV).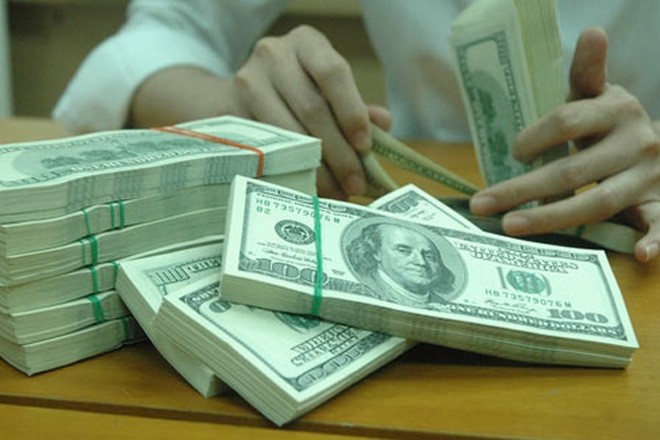 Vietnam's foreign reserves reached a record high of more than $35 billion in 2015.
Thoi bao kinh te Saigon Online (Saigon Times Online) quoted the source as saying that the record was thanks to the achievements of numerous  monetary policies, that have been enacted in the past few years.
According to the source, the country's balance of payments started to post a significant surplus in 2012, and this trend lasted until 2015, enabling the central bank to buy a large amount of foreign exchange (forex).
Vietnam's foreign reserves reached a record high of more than $35 billion in 2015, the source said, and added that if gold as well as foreign currencies of the State Treasury and credit institutions deposited at the SBV are taken into account, the volume of the foreign reserves amounted to about $40 billion.
This is a remarkable improvement since the country's reserve fund dwindled to $9 billion in 2010 due to large trade deficits and undermined confidence in the Vietnamese đồng.
In April 2014, SBV Governor Nguyen Van Binh said that forex reserves totalled $35 billion. More than a year later, in July 2015, he said the reserves had touched $37 billion.
Earlier this month, Vu Bang, chairman of the State Securities Commission of Vietnam (SSC), said that Vietnam's foreign reserves could now cover three months of imports.
Former SBV Governor Cao Sy Kiem attributed the rise in foreign reserves to the country's macro-economic stability and SBV's success in taming the forex market, lifting confidence in the đồng and reducing the dollarisation in the economy.
According to the central bank, the rise in the forex reserves has also contributed to enhancing Vietnam's position on the international market, as shown by the interest rate of bonds issued in international markets, which has fallen sharply from 7.2 per cent to 4.8 per cent in 2015. This helped reduce the cost of the government's foreign borrowing.
The hike in foreign reserves will also help increase the confidence of investors in Việt Nam's macro policies and enhance the effectiveness of the country's monetary policy regulation, the central bank said.