Building partnerships to realize the potential of the Cambodia-Laos-Vietnam Development Triangle was the theme of a forum in Buon Ma Thuot City, the Central Highlands province of Dak Lak on April 21.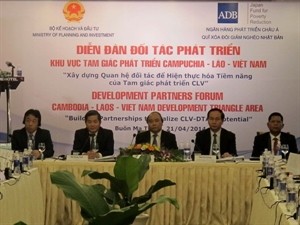 A view of the forum (Photo: VNA)
The event, co-hosted by the Ministry of Planning and Investment and the Asian Development Bank (ADB), aimed to work out measures to foster the rapid and sustainable development of the triangle and gradually narrow the gap in the area by maximizing the potential, strengths and resources of each locality.
It also offered a good chance to enhance economic connections in and outside the triangle and address social, security-defense and eco-environment protection issues, practically contributing to strengthening cooperation among the three countries.
Addressing the forum, Deputy Prime Minister Nguyen Xuan Phuc stressed that the Governments of Cambodia, Laos and Vietnam and the authorities of provinces in the triangle should invest more in transport infrastructure and create a favorable environment for economic connectivity.
He suggested the triangle's countries and localities focus on developing agriculture, especially industrial plants such as rubber and coffee; infrastructure at border economic zones; and human resources training.
The Deputy PM also urged localities in the region to effectively implement a master plan adopted by the three countries' Prime Ministers, making their planning part of the regional one.
Development must be associated with protecting the eco-environment, simplifying administrative procedures and reinforcing border security, he noted.
At the forum, participants also discussed how to reduce poverty and increase competitiveness in the triangle as well as policies to attract resources for its development.
Set up in October 2009 under the initiative of Cambodian Prime Minister Hun Sen, the Cambodia-Laos-Vietnam Development Triangle comprises 13 border provinces of the three nations.