Free trade agreements (FTA), especially the Trans-Pacific Partnership (TPP), will create a motive force to reform the agricultural industry and remedy its weaknesses, because integration commitments have been made in the same direction with ongoing efforts by the Government to develop the industry, said Dr. Vo Tri Thanh, deputy head of the Central Economic Management Institute at a conference on effects of TPP on agriculture.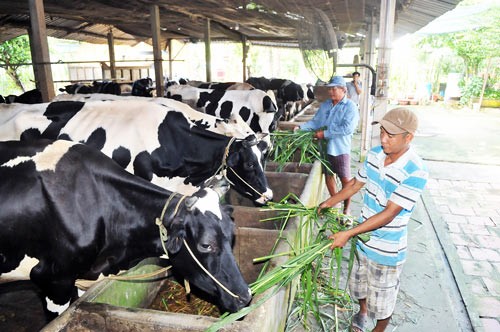 Breeding will meet difficulties when TPP takes effect (Photo: SGGP)
Difficulties and challenges do not aim to frighten businesses and farmers but urge them to re-determine development strategies, minimize and overcome negative impacts from integration, he added. 
Many experts have expressed concern that FTAs and TPP would put heavy pressure on the agricultural industry, particularly breeding. 
Vietnam's agricultural production has been scattered over small scales in most fields. Outdated technologies in production and processing after harvest have caused low quality and high costs. 
The breeding industry depends on import feed and regularly faces diseases. Adding to the woes is loose connectivity, and weak environmental protection which has resulted in low food safety and hygiene, they added. 
Former Trade Minister Truong Dinh Tuyen, consultant of TPP negotiation delegation, said that TPP would bring opportunities but they would not turn into profits and market strength themselves. 
Mr. Tu Minh Thien who is deputy head of the management board of the HCMC Agricultural High Tech Park said that related sides should manage to take advantage of opportunities and reduce challenges from TPP, make it a motive force to restructure the agricultural industry which has long focused on quantity not quality, 
Agricultural experts said the Government would play a significant role in improvement of the agricultural industry's competitiveness by creating an advantageous and fair business environment. 
Dr. Nguyen Quoc Vong said that the Government should build a long term land use policy and goods production and supply chains, assist hi-tech application and map out strategies for farm produce exports. Flexible policies should be applied to help businesses improve their competitiveness, he added.
Related article: