The cut effected in A92 gasoline and kerosene prices Thursday will have a positive impact on prices, especially transport costs, a government deputy minister has said.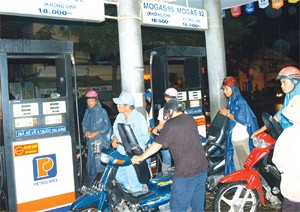 Retail fuel prices decreases by VND1,000 a liter Thursday morning. The price of A92 petrol drops to VND18,000/liter, while A95 petrol declines to VND18,500/liter
For the time being, the VND1,000 per liter fuel price cut and the projected fall in transport costs would see the August consumer price index drop, Deputy Minister of Finance Tran Xuan Ha said.
 
But the Ministry of Industry and Trade forecast the prices of many staple goods to remain unchanged or only fall lightly this month.
 
It pointed out that fertilizer prices have been stable and fell slightly since July, thanks to abundant supplies.
 
Cement prices too have been in a downtrend due to low demand during the rainy season, it said. A ton of cement costs VND850,000-1,100,000 in the north and VND1.2-1.4 million in the south.
 
But vegetables, meat, and poultry would be up due to the recent floods in the northern mountains regardless of the fuel price fall, the ministry said.
 
The Government had hiked fuel prices by 30 percent on July 21 following a global rise, and A92 petrol went up from VND14,500 to 19,000 per liter.
 
The public is wondering why today's cut has been of just VND1,000 while the price had risen by VND4,000 last month.
 
Mr Ha responded that at current global levels, petrol importers can earn a profit of VND1,400 per liter. This would make up their losses in the first seven months, he said.
 
The Government no longer subsidizes any oil product except diesel, of which it absorbs 70 percent of the increased cost, he said. The remaining 30 percent of the additional cost is borne by fuel importers and consumers.
 
The fuel price hike of 30 percent in July made the fuel consumption reduce by 10 percent over the pervious month.
 
The Vietnam National Petroleum Corporation (Petrolimex) said it had over 700,000 metric tons of fuel in stock by the end of July, equal to 30-35 days' consumption, 20 days more than the required reserve.
 
When the remaining portion of this stock is sold at the new price, it would still lose, Petrolimex said.
 
Since late July world fuel prices have been declining. In early August it fell to $119 a barrel from a peak of $140.
 
Nguyen Cam Tu, Deputy Minister of Industry and Trade said retail prices are not directly correlated to global prices but based on several factors.
For instance, stocks currently available on the market today were imported at least 20 days ago, he said.
Related article:
Retail Fuel Prices Fall Following Decline in World Price