Booming export turnover of furniture sector in 2010 and the recovery of key markets encouraged local exporters to set this year's target at US$4 billion, an increase of 30 percent from last year.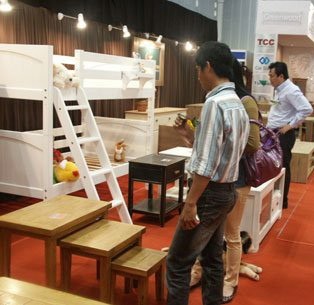 Customers watch beds, desks and chairs displayed at a HCMC-based furniture shop (Photo:cafef.vn)
Dau Tu Tai Chinh newspaper caught up with Nguyen Ton Quyen, general secretary of the Vietnam Association of Timber & Forest Products (Vietfores), to talk about the confident target.
Nguyen Ton Quyen: Vietfores is confident that export furniture turnover this year will reach $4 billion thanks to two facts.
First, sales in key markets are on all rise, with the US increasing 15 percent and the Euro rising 8 percent last year.
Local furniture makers are also entering new potential markets including Russia and Middle East, which favor Vietnam's furniture products.
Secondly, global surveys expect sales of furniture products around the world in 2011 will be up to $230 billion, of which revenue of the two biggest markets – the US and the Euro - will reach around $85 billion and $27 billion.
Therefore, comparing with those figures, Vietnam's target of $4 billion is still very small. Moreover, US customers started to prefer medium- and low-cost products, which help domestic producers have an edge over foreign competitors.
Dau Tu Tai Chinh: Large sales of furniture products require large quantities of raw wood. Material prices, meanwhile, are increasing constantly. Does Vietfores have any plan on supporting local producers?
Vietnam has to import nearly 80 percent of raw wood for domestic furniture production annually. Domestic exploitation meets up only 20 percent of the local demand, equal to more than 800,000 cubic meters of wood a year.
The increasing material price combining with banks' high interest rate have put local furniture makers in difficult time.
Vietfores proposed the government to make preferential policies for local firms, including encouraging forest planting to boost the domestic wood exploitation and cutting interest rates of loans for furniture exporters.
Many local exporters are anxious on the fact that the US and the Euro importers are now asking for the origin of raw wood.
Therefore, Vietfores is designing documents providing guidelines on how to achieve certificates of origin of raw wood.
Many local exports opt for FOB (freight-on-board) shipping standard to reduce the risk of losses. What is your opinion about it?
I think local exporter feel safe with this standard, but it makes them earn less. We have put on trial the CIF (Cost, Insurance and Freight) standard for several years in an effort to help increase domestic product value.
CIF has five factors that ensure purchases' safety, including effective business management, good marketing plans, modern techniques, diversified products and well-trained employees.
Some experts encourage furniture producers to switch to local market, which is also very potential. Will this affect the export?
We have 3,000 companies in furniture sector, of which only 600 are exporters. Therefore, it is appropriate to encourage local producers to pay more attention in local market.
Capturing market shares in both foreign and domestic markets will help local firms to diversify their products, as well as avoid incurring losses as foreign markets are bearish.
Moreover, domestic demand is increasing sharply, which help local companies to gain booming earning.