Vietnam's furniture manufacturers are focusing solely on foreign markets and abandoning one at home, experts noticed, adding the quality of the country's timber resource should be improved.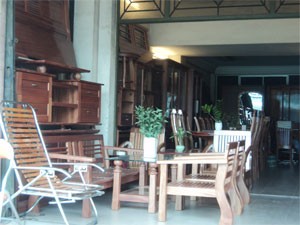 Chairs, tables, cupboards ad wardrobes are displayed at a HCMC-based furniture shop (Photo:Minh Tri)
"Millions of cubic meters of timber are produced annually, but most of the amount is exported as low-quality woods. Importers, in contrast, have to buy millions of cubic meters of high-price wood from abroad for local production," said Hua Duc Nhi, deputy minister of agriculture and rural development.
"Vietnam's wood product export remains unstable, with low competitiveness. Local makers still lack creativity as they always rely on designs ordered by foreign customers. Therefore, how can we make the domestic wood product a popular brand in the world?" said Tri.
The Vietnam Wood and Forest Products Association, known as Viforest, expected the export turnover of wood products will reach more than US$4 billion this year, a year-on-year increase of 17 percent.
According to Viforest, only 30-40 percent of materials used in furniture production are domestic, while the remainders are imported.
Statistics show local manufacturers have to import an average of 3 million cubic meters of raw wood worth $1 billion annually. However, the timber resource is limited, with its cost increasing 20-30 percent this year, experts said.
Vietnam's furniture producers have forayed into 120 countries worldwide, of which the US, Euro and Japan are the three biggest markets.
Nguyen An Diem, chairman of the Binh Dinh Vietnam Wood and Forest Products Association, said "local furniture producers is focusing solely on export and abandoning the domestic market.
"Meanwhile, domestic furniture consumption is worth around $3 billion per year, of which manufacturers from China, Malaysia and some European countries earn 80 percent of the amount," Diem said.
Viforest vice chairman Nguyen Ton Quyen said at a conference that local producers should focus on making high-quality products, which help boost their competitiveness in both domestic and foreign markets.
Quyen also noticed that the local timber processing industry should be restructured, with more large-size plants. Viforest will help local firms to seek new potential markets and business cooperation and set up marketing and developing strategies, he said.
Experts said local export should beef up their sales in new markets including Western Asia, Eastern Euro and domestic market, as well as seek domestic timber resources in order to bring down the rate of imported material used in domestic production to 60 percent.
"Private and state-owned wood processors should cooperate with each others to produce timber resources to supply domestic production," Vu Long, expert in economic and forest policy of the Vietnam Forest Science Association, said.