After export quotas on Viet Nam's apparel industry were abolished, the garment industry's growth rate reached 20-30%, an encouraging improvement. However, labor shortages and FOB production continue to cause major headaches for the industry.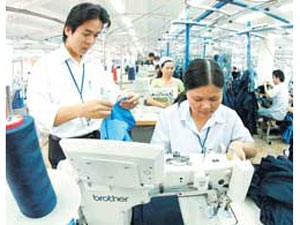 Workers in a factory of Viet Tien Garment Company

Garment industry no longer attracts labor

Nowadays, purchasing equipment is much easier than finding skilled labor, a garment manufacturer said.

This is the common crisis amongst all of the country's garment factories. Although the average income for a HCMC worker is VND 1.5 million/month (approximately US$ 93) today, the industry still faces the risk of losing more and more labor.

According to Mr. Nguyen Huu Toan, Vice President of the Saigon 2 Garment Joint Stock Company, they are in need of 2,000 workers to operate 40 garment production chains in Cu Chi, where currently there are only 15 chains operating.

In Quang Ngai, four of seven garment factories have closed due to the lack of available labor. Local factories are now resorting to hiring unskilled workers from other regions.

Although there are a large number of laborers moving from the cities to the provinces, the skilled labor force is still scarce. Most workers remain unfamiliar with modern industrial working practices, and thus repeatedly skip work without permission.

FOB exports: dominated by foreign companies

With an average growth rate of 20%, the garment industry has provided one of Viet Nam's top exports in recent years. Due to the abolishment of export quotas for Viet Nam's garment industry, by 2010 Viet Nam expect to reach a US$10-12 billion turnover for clothing goods.

However, this industry still has to face many disadvantages. FOB means that the manufacturer owns the product that they are selling outright; they have sourced the raw materials and packaging of the finished products. Currently in Viet Nam, most of the garment manufacturers are only doing the processing work and thus the total number of FOB exports remains very low, amounting for only 20-30% of total apparel exports.

Vietnamese manufacturers are relying heavily on imported materials (80% of materials are imported).

According to many experts, the proportion of FOB export in 2007 will be 5-10% higher than the current percentage.

All textile and garment companies need to realize the importance of FOB exports for their survival. What matters to Viet Nam's garment industry is not the number of orders but the skilled labor force and FOB exports, Mr. Pham Xuan Hong, President of the Saigon 3 Garment Company commented.