Garment and textile is one of the Vietnam's leading export industries which is expected to reach US$30 billion by 2020 and US$55 billion in export turnover by 2025, double the number in 2015, thanks to free trade agreements (FTAs) that have been signed and taken effect from this year.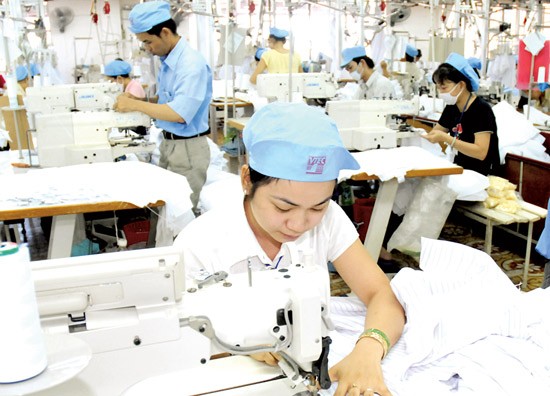 Workers at Viet Tien Garment Joint Stock Corporation (Photo: SGGP)
FTAs will help attract foreign direct investment (FDI) and bring Vietnam many advantages from integration.
However, a representative of Gia Dinh Garment Company said that most FDI companies in this field come from garment and textile powers in the word and in the trend of closed production process from materials to finished products, design and distribution.
This trend will bring FDI firms advantages in low cost price, competitive selling price and stable material source and most Vietnamese companies disadvantages as only few with strong financial resource such as The National Garment and Textile Group have been afford for closed production process.        
The most difficulty of local companies will be shortage of row material, putting them in possibly severe competition in material origin rules as per FTA commitments.
Therefore local firms must improve themselves in both business thought and way. Authorized agencies need to work with associations to issue policies encouraging enterprises to transfer from processing into export under FOB (free on board) term, original design manufacturers or original brand manufacturers.
Experts said that garment and textile export turnover will hit US$30 billion, consuming US$21 billion materials by 2020 when more FTAs will take effect.
Support industry will be a solution for FTA origin rules creating a basis for local firms to exploit opportunities and tax incentives.
Mr. Tran Trung Quy, director general of Trung Quy Trading Production Service Company, stressed that HCMC should have policies to promote equipment manufacturing for the support industry, including those in fibre production lines, dying, and chemicals for wastewater treatment.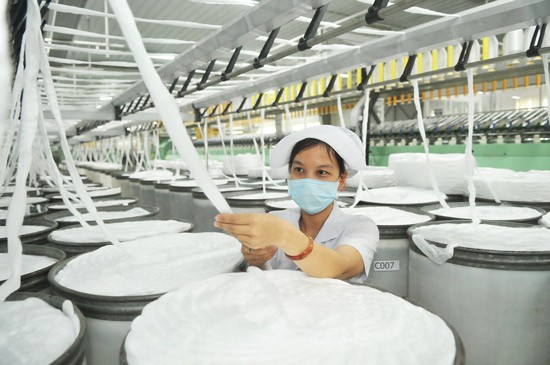 Vietnam's garment and textile export turnover is expected to reach US$55 billion by 2025 (Photo: SGGP)
These policies will work to reduce cost price of support products, he said.
Customs and tax procedures should be reformed and streamlined further for the same purpose.
In addition the city should have high determination to develop it into a fashion hub of the country and Southeast Asia in the future, which will create a new competitive advantage for garment and textile firms to the increasingly strong penetration of businesses from ASEAN and China.
It will help boost shopping tourism, expand shop system and implicate development of other industries such as real estate too, he added.