Foreign Direct Investment (FDI) businesses have intensified investment in garment and textile industry in anticipation of Trans-Pacific Partnership (TPP), which is expected to be signed this year. Meanwhile most Vietnamese companies have just done outwork and been unlikely to benefit much from the agreement.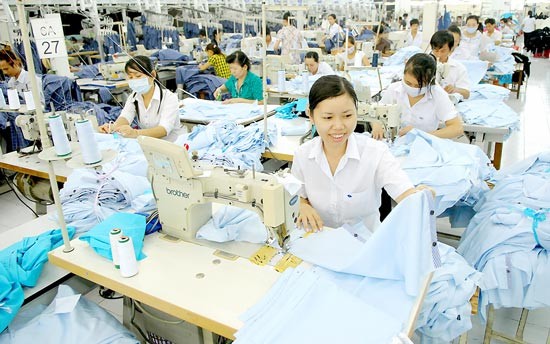 Most Vietnamese garment and textile businesses do outwork (Photo: SGGP)
Statistics from Ho Chi Minh City Garment and Textile Association showed that the industry's export turnover reached US$24 billion last year. Of these, FDI enterprises contributed 60 percent.
Up to 85 percent of domestic businesses just do outwork, about 13 percent acts as intermediary to purchase materials and sell products. Only 2 percent are able to undertake all phases from designs, material supply, production and delivery.
These have resulted in the low added value of Vietnamese garment and textile products because material costs account for 60-70 percent while processing occupies only 20-25 percent of product value.
FDI enterprises have already gained initiative in exports. Many experts forecast that even when being signed, TPP will not bring absolute advantages for Vietnam's garment and textile industry.
One of requirements from the agreement is that material source must be domestic or from countries attending TPP. Meantime, 88 percent of materials in Vietnam have been imported from nations not joining TPP.
 
Deputy Head of Vietnam National Garment and Textile Group Hoang Ve Dung (Vinatex) said that garment and textile industry had been able to meet two percent of cotton demand and one eighth of fabric demand. Every year Vietnam produces 140,000 ton fibre but their quality is not high, making material source dependant on imports.
Foreign investors have sped up investment to wait in front for opportunities from TPP. Some large Vietnamese businesses have also broadened investment but their scales are too small to create any breakthrough.
According to the Ministry of Planning and Investment, about 20 FDI projects worth hundreds of million U.S. dollar were licensed in the first ten months last year.

Chairman of Garmex Saigon Company Le Quang Hung said that material and design were two vital factors for garment and textile businesses. However they are most imported.
The HCMC Garment and Textile Association has many times proposed authorized agencies to provide incentives for the establishment of fashion design centers in stead of purchasing foreign designs at high prices. However nothing has been done.
Meantime, material development is much more difficult as it is related to environmental protection law. HCMC has limited licensing dyeing and weaving plants which cause heavy environmental pollution. Those that have been built are facing difficulties because of capital shortage for wastewater treatment.
The association has suggested construction of a dyeing and weaving industrial cluster but it has not been approved.
Mr. Brian Staples, an expert from the European Trade Policy and Investment Support Project (EU-MUTRAP), said that difficulties in the garment and textile industry would cause heavy pressure for the existence and sustainable development of businesses especially when TPP was signed.