The General Statistics Office this morning reported that Gross Domestic Product (GDP) growth hit 6.5 percent in the first nine months this year, which is the highest rate for the same period since 2010.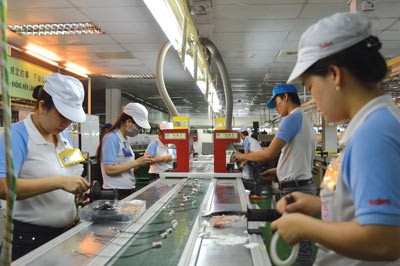 A hi-tech production line of a business in Tan Thuan Export Processing Zone, HCMC (Photo: SGGP)
Of these, agricultural, forestry and fishery field increased 2.08 percent, industry and construction hiked 9.57 percent and services went up 6.17 percent.
Industrial production index and total retail sales of goods and services were estimated to increase 9.8 percent each, higher than a year ago.
In the first nine months, the country had 68,347 newly established businesses with registered capital of VND420,900 billion (US$18.72 billion), up 28 percent in number and 31 percent in capital.
The economy faced many complicated fluctuations in the goods market and the globally financial market but still sustained reasonable growth rate, according the office.
Inflation continued to be under control and consumer price index raised as low as 0.4 percent since the beginning of this year.
Macroeconomic policies were implemented timely and flexibly along with measures to solve difficulties for businesses, which have help improve domestic production and trading conditions.