If Ho Chi Minh City continues its growth momentum in the last ten months, gross domestic product will be able to reach 9.5-10 percent for the whole year, said city People's Committee chairman Le Hoang Quan at a meeting on the city's socioeconomic conditions on Thursday.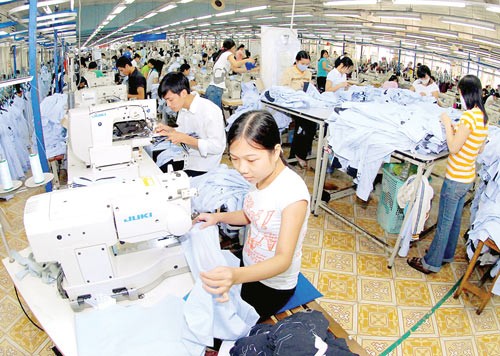 Shirt making at Nha Be Garment Corporation (Photo: SGGP)
According to the committee, economic conditions continued growing rather well in October. Total retail revenue of goods and services increased, consumer price index (CPI) was under control and trade and investment activities proved effectiveness.
Industrial production scale was expanded, industrial structure broadened towards manufacturing and processing. Four key industries posted higher growth than common rate.
Specifically, deputy director of the Department of Planning and Investment Su Ngoc Anh reported that the retail revenue was estimated to hit VND75,433 billion (US$3.38 billion) in October, up 8.8 percent against the previous month, taking the first ten months' number to VND550,101 billion (US$24.63 billion), up 10.6 percent.
Export import turnover topped US$2.75 billion, up 5.4 percent, taking ten month turnover to US$25.46 billion.
International visitors to the city touched 430,000, raising ten month number to 3.6 million, up 4.6 percent.
For the last ten months, industrial production index was up 7.4 percent. Budget revenue neared VND226 trillion (US$10.12 billion), up 4.28 percent and accounting for 85 percent of the year's estimates.
New established businesses increased 30 percent in number and 40 percent in capital, mainly from service and industry-construction fields.
The number of companies stopping operation fell strongly and those resuming production after temporary halt gradually went up.
Foreign direct investment increased 39.8 percent with 464 new projects. 118 projects registered to supplement an extra of US$642.8 million in investment capital. Credit growth was on the rise with medium and long term loans accounting for 55 percent.
Chairman Le Hoang Quan said that the first ten month results show that stable aggregate demand growth.
October CPI slightly hiked 0.06 percent over the previous month but reduced 0.9 percent over the same month last year. Ten month index moved up 0.34 percent, lower than 4.55 percent from a year ago.
The country's largest wholesale and retail center has kept CPI stable for the last 7 years, he said.
"The low increase of CPI does not mean weak purchasing power," he affirmed.
It is results from a process of implementing many programs and solutions such as economic, banking, public investment, and business restructuring; market stabilization; and a program to bring businesses and banks together, the chairman added.
With this growth momentum, HCMC is likely to obtain its yearly targets, he said. Of these, budget revenue will get VND269 trillion (US$12.05 billion).
He instructed relevant agencies to make more efforts in solving difficulties for businesses.
Public investment will be tightened next year, he revealed. All works must have specific addresses, capital, starting and completing time. Leaders of agencies who propose construction of any work must take direct responsibilities to the city's leaders.