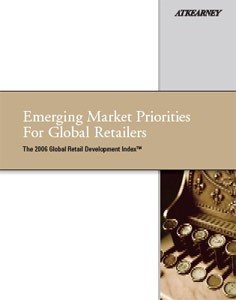 The 2006 Global Retail Development Index
Viet Nam has jumped five spots from last year up to the third most attractive emerging market of the world, according the 2006 Global Retail Development Index (GRDI) published by A.T. Kearney, a US-based global management consulting firm.
India retained its position as the world's most attractive emerging market, according this publication, an annual study of retail investment attractiveness among 30 emerging markets. Russia is second.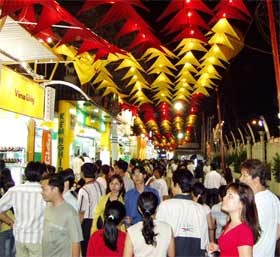 Many people go shopping at the Vietnamese High Quality Goods Fair in Ho Chi Minh City from April 25 to May 1, 2006 (Photo: Tuong Thuy)
The study says that among Viet Nam's population of 84 million people, half are aged less than 30 years and like shopping. The consumer's spending rose by 15% and the retail revenue increased by 20% between 2004 and 2005.
 
China fell one spot to fifth place as international retailers continue to saturate the market, according to the study. Meanwhile, Viet Nam, like a little India, sees 90% of the retail outlets are family-size businesses. The US$350 billion Indian market is predicted to grow by 13% this year.
The study also found Asia has overtaken Eastern Europe as the dominant region for global retail expansion. Powering Asia's charge are Viet Nam, and other Asian Tigers including Thailand, South Korea and Malaysia, all of which are in the top 15.
According to Viet Nam's General Statistic Office, the country posted its total retail revenue at VND335,383 billion, equal to US$20.93 billion, last year.
A survey by the group of Manufacturers of Vietnamese High Quality Goods predicted that the consumer's spending in 2006 would be higher than in 2005. Spending of people with monthly income over VND1 million is forecast to make the highest rise of 34%, compared with 18.4% last year.
You can download the 2006 Global Retail Development Index at http://www.atkearney.com.