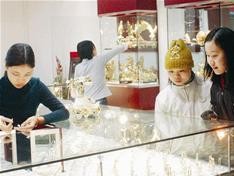 Consumers are likely to purchase more gold when its price appears to continuously increase these days. (Photo:T.K)
Saigon Jewelry Shopping Center's gold price closed at VND12.42 million a tael late July 3, an increase of over VND270,000 over last Sunday.
On the same day, the global gold price also increased by US$20 to stop at US$622-623 an ounce.
Trade volume for gold jewelry and bullion increased as the gold price started to rise early the day, many gold enterprises and shopping center reported.
About 5,000 taels of SJC and AAA gold bar were sold out, according to two leading Ho Chi Minh City-based gold enterprises Sai Gon Jewelry Company (SJC) and Viet Nam Jewelry Company (VJC).
According to market analysts, major reasons for world gold price rise currently remain in place, which included geo-political tensions, high energy prices and investment demand. Particularly, gold price in Viet Nam rebounded recently as world rates recovered on the back of hiking crude oil prices due to political uncertainties in the Middle East.
Many international banks and investment funds predicted that the global gold price would continue to rise through 2006 and further into 2007, possibly will end up averaging around $633 an ounce for 2006 and $753 for 2007.