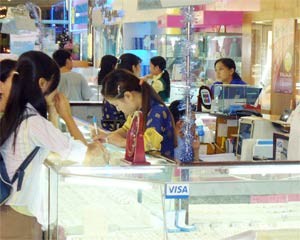 Vietnamese consumers still purchase gold jewelry while its price is rising remarkbly. (Photo:TK)
Both the domestic and global gold prices continued to rise remarkably on July 6, which was in line with predictions made by many market analysts earlier.
Gold traded at the Saigon Jewelry Shopping Center was priced at VND12.62 million a tael, an increase of VND170,000 over the previous three days.
Despite the high rise, the domestic market eyed a remarkable increase in the purchasing power of the precious metal when many leading gold enterprises in Ho Chi Minh City reported that their sales were up by 30% over early this week.
Particularly, over 5,000 taels of SJC gold bar were sold out by the leading Ho Chi Minh City-based gold enterprise Sai Gon Jewelry Company (SJC).
Gold prices in Viet Nam rebounded recently as world rates recovered on the back of hiking crude oil prices. Currently, the crude oil price to be delivered in August on New York market reached US$75.40 a barrel while in London it was priced at US$ 73.98.