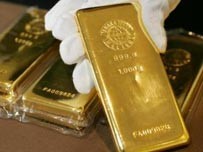 (Photo: Thanh Nien News)

Gold prices on the Vietnam market have reached VND18 million a tael (US$1,028/1.3 ounces) this morning as the global gold price rose to $900 per ounce.
The Phu Nhuan Jewelry Joint Stock Company bought gold at VND 17.85 and sold at VND18.02 million a tael.
The Saigon Jewelry Company also bought sold gold at VND 17.85 but sold at VND18 million a tael.
Meanwhile, the Ho Chi Minh Stock Exchange today has regained ground due to the blue chips' rally.
The VN-Index of 174 companies and funds increased 4.1 points to close at 308.56, 86 stocks rose and 61 declined. Trading volume remained low at 7.87 million shares worth more than VND200 billion ($11.5 million).
The Hanoi based HaSTC-Index fell slightly by 0.12 points closing at 105.5. 55 listed stocks rose, 79 fell.