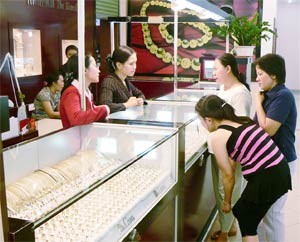 More Vietnamese consumers eye on local gold jewelry and bullion. (Photo:TK)
After consecutive days of fluctuation and strong increase, the domestic gold price yesterday closed at VND13.33 million per tael, continued to cause a rise in sales.
Together with the increasing gold prices, the domestic purchasing power for the precious metal stayed at a high level when the volumes of gold purchase and gold sale are almost rising.
Gold retailers report that their sales of jewelry and bullion were stronger than usual. SJC and the Viet Nam Jewelry Company say they continued to sell around 6,000 taels of SJC and AAA gold biscuits.
Local experts believed that the domestic gold price can still increase in the coming time although the global one this year will not surpass US$730 per ounce (or VND14 million per tael).
However, Mr. Luu Quang Dien, Director of the SJC Gold, Silver and Gemstone Company in Ha Noi said in a recent interview that the domestic gold price will also be in the same situation when the world prices fluctuate because the imported gold to Viet Nam currently accounts for 90% of the local market. Currently, the Vietnamese gold price is around VND100,000 per tael lower than that of the world market.
"The recent dip of the domestic securities market made many investors pour their money in the gold market, which is likely to be in full swing in the second quarter of this year as gold is considered an easier area of investment with less "headaches" than stock trading," said Mr. Dien.
To build a stable gold market, according to the director, the State should reduce the gold import tax to 0% like other regional countries and apply a more open mechanism to gold import businesses. Currently, quotas on gold imports are allocated basing on the asking and receiving mechanism, which possibly leads to negative cases.